Full Time
Posted 2 years ago
Website autodealph AutoDeal.com.ph
"Car Buying, Simplified"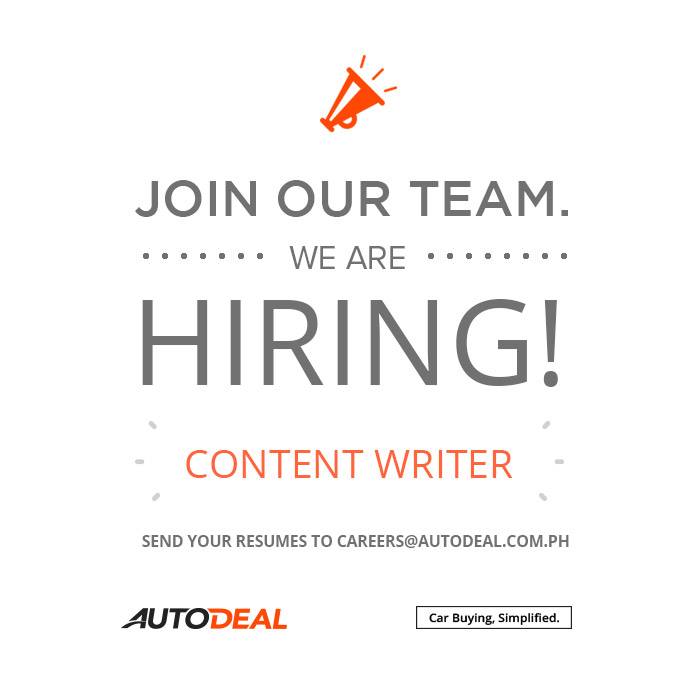 AutoDeal.com.ph is looking for a Content Writer to join its ranks at it's cool modern headquarters in Makati.
AutoDeal.com.ph is a digital marketing, lead management and analytics start-up operating within the Philippine automotive industry. Our office is located at the FutureNow Ventures office on Jupiter Street in Makati. The company was founded by the same people who developed PinoyAutoTrader.com.ph before it's acquisition by Sulit.com.ph (Olx.ph) in early 2013.
We are a goal-driven company with a key eye for design. We are extremely flexible with working hours and maintain a positive work-culture that surrounds taking pride in our work
Responsibilities
Research, write and edit copy for marketing communications including but not limited to print and online articles, newsletters, videos, webinars, infographics, white papers, case studies, blog posts, Web site content and more
Draft landing page copy as well as supporting email and social copy to drive demand for content initiatives
Collaborate with design, digital, search and other teams to develop compelling, often unexpected, content plans
Interview subject matter experts on a variety of topics and translate that information into captivating and concrete storytelling
Think strategically and participate in creative concepting in a wide range of media, beyond the "what is" into the realm of "what can be"
Establish strong relationships across departments and an understanding
Requirements
Excellent written communication skills with a keen eye for detail.
Excellent command of the English language.
Demonstrate the ability to write for SEO.
Knowledge of customer service and/or customer support.
Team focused; strong willingness to collaborate with others.
Send your applications to careers@autodeal.com.ph
Tweet
Related Posts