Full Time
Posted 2 years ago Website autodealph AutoDeal.com.ph
Car Buying Simplified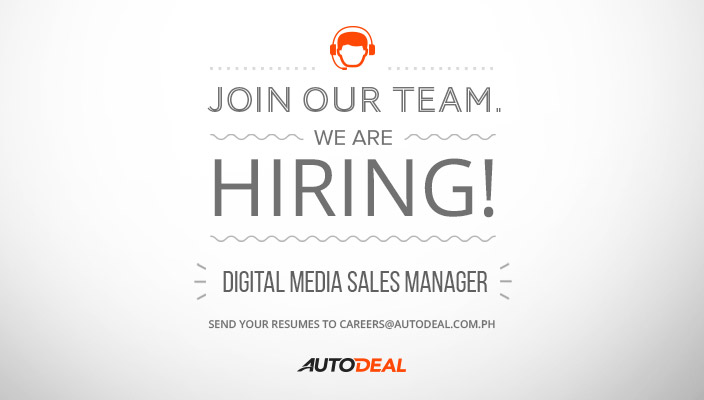 AutoDeal.com.ph (The SirQo Group, Inc.) is looking for a self-motivated and experienced individual to spearhead strategic sales as it's Digital Media Sales Manager. The position will present fresh challenges for those with existing experience in media sales and will put the successful candidate at the forefront of the company's revenue generating strategies.
The successful applicant will be responsible on maximising revenues and business from key clients in the market through a series of unique service subscriptions. By gaining strategic insights, the applicant will also contribute to developing long term tactical plans to ensure future gains both for the company and our clients.
About the Company
AutoDeal.com.ph (The SirQo Group) is a digital marketing platform for online car buyers. AutoDeal serves various stakeholders in the automotive industry through the provision of sale referrals, marketing intelligence data and communication tools. The AutoDeal platform has contributed to more than an estimated P1 Billion worth of vehicle sales in the country since being established in April 2014.* AutoDeal holds office in Makati and Cebu.
*Data based off consumer feedback
This slideshow requires JavaScript.
Job Benefits Include:
- Flexible Working Hours.
- Competitive Pay & Commission Plan.
- Work from Home Fridays.
- Major Long-Term Career Growth Possibilities.
- Free Beer
- Comfortable and Non-Corporate Office Environment.
- Friendly Team & Supportive Management.
- Office Location: Jupiter Street, Makati.
Job Responsibilities Include:
- Develop and Deliver an Advertising Sales Strategy
- Ensure All Revenue Streams are maximised.
- Train and deploy additional team members as required.
- Achieve Targeted Revenue Goals.
- Develop Long-Term Strategies and Collaborate with Upper-Management.
Performance Focus:
- To have a clear and measurable revenue strategy.
- To deliver accurate forecasts as requested by upper management.
- Analyze market-share year-on-year as well as month by month, identify tactics to overcome.
- Liaise with content and account management teams to make sure all deadlines are met.
Job Requirements
- Proven background in media sales.
- Preferably with experience in the automotive sector.
- Good work attitude, driven (self-starter) and able to work in fast-paced environment with ever-changing variables.
For more information, contact careers@autodeal.com.ph
Tweet
Related Posts