BYD Auto, through its authorized Philippine distributor, Solar Transport and Automotive Resources Corp. (STAR Corp.) celebrated its 2nd Year Anniversary in the Philippines with a special bash for its customers, media partners and friends last September 26, 2015 at the Aruba Bar & Restaurant at the Metrowalk Commercial Complex along Meralco Avenue in Pasig City.
STAR Corp. Managing Director, Mark Andrew Tieng, welcomed everyone and shared the significant milestones of the company in the Philippines over the past two years. In particular:
1. The introduction of euro-4 compliant, fuel efficient, world-class vehicles like the BYD S6 SUV, the BYD L3 sedan, the BYD F0 micro mini, the BYD F5 Suri with remote control technology, the BYD F3 sedan, a vehicle offering specific for taxi and fleet operations.
2. The growth of its After Sales services, which vouches for STAR Corp's long term commitment to the Philippine market that its operations are in full scale, offering vehicle sales, spare parts, and service.
3. The expansion of its corporate partnerships, from dealerships, banks, to fleet car alliances, signifying a growing trust and confidence in BYD as a strategic partner in providing complete solutions to meet customers' automotive needs.
4. STAR Corp's continued pursuit of its "green dream", as it looks forward to the day when eVehicles can occupy a portion of the nation's highways and roadways and a future when green car space is the norm rather than the exception, " as it advocates the passage of the Alternative Fuel Vehicles Act or House Bill 387, its participation in the Electric Vehicle Association of the Philippines' (EVAP) campaign for One Million EVs on Philippine Roads by 2020, and its introduction of the BYD Qin, one of the more advanced vehicles available for the local market, and the first and only plug-in hybrid sports saloon in the country.
Tieng also gave a glimpse of BYD's future in the country including network expansion, aggressive sales, and the introduction of more BYD cars, which will be responsive to the growing needs of the market, as well as the promotion of green motoring.
"We would like to thank all of you, especially our media friends for your continued support. BYD Philippines has nothing but happy and satisfied customers. Along with our dedicated and hardworking dealerships and employees, we aspire to do more for our customers which is our promise and commitment." said Tieng.
Moreover, the anniversary celebration was marked by the launch of the BYD Auto Club that has more than 100 exclusive members. The BYD Auto Club is a non-profit organization established by STAR Corp. to benefit BYD car owners and special stakeholders in the Philippines with the end in view of enhancing their motoring lifestyle, strengthening their brand experience with BYD and building camaraderie among its members.
Members of the BYD Auto Club will receive updates and BYD motoring news from around the world through its official Facebook page, regular newsletters and participate in special motoring events, as well as receive exclusive offers, and take part in learning modules on road safety and green motoring. They will also be the first to know about and see the latest BYD cars that will hit the streets of Manila.
Tieng explained that the creation of the BYD Auto Club is a result of STAR Corp's continued efforts to listen and understand its customers and provide them with best brand experience they deserve. This is part of STAR Corp.'s "5-Star" customer service orientation. "After our 'Saturdates' with our customers…the next level is building a community with them," said Tieng.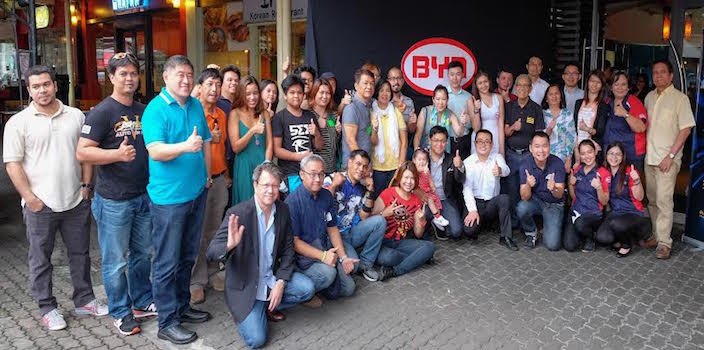 Present at the celebration was Asia Pacific Auto Sales Division of BYD Auto General Manager, Liu Xue Liang, who expounded on the global success of BYD. According to Liang, "with over 5,000 zero-emission electric buses delivered worldwide and thousands more units ordered and under production, BYD is by far the world's largest maker of pure electric buses. Its electrified transportation solutions are currently running in over 150 cities in 37 countries, beating the US and Japan in technology and sales."
Likewise, Liang added that "BYD was recently recognized in Fortune Magazine's first list of companies that have made a sizable impact on major global social or environmental problems as part of their competitive strategy. Currently, BYD is no. 15 on the list."
Invited to join the celebration were members of the motoring media who received BYD Makata Award and BYD owners who were also feted during the evening with special awards rewarding best car care practices for On Time Regular Service award, Best Accessorized Car, Best in Interior and Exterior, and Most Loved Car.
STAR Corp also organized several activities for the participants, from a display of BYD's Qin and F0 race car, test drives of BYD. Prizes worth over P200,000 were also were raffled off including a pair of autographed Manny Pacquiao boxing gloves, who likewise owns a BYD F5.
BYD, which stands for "Build Your Dreams", is a global automotive brand that specializes in gasoline, electric, and hybrid cars, and is distributed in the Philippines by Solar Transport and Automotive Resources Corp. (Star Corp.). Its showrooms are located in Metro Manila (Shaw Boulevard, Mandaluyong City) and another in Concepcion, Batangas and a sales/showroom facility in San Pascual, Batangas.
For more information, visit their website: www.byd.com.ph and like them on facebook: www.facebook.com/bydphilippines