MANILA, Philippines, October 10, 2015 - SOLAR Transport and Automotive Resources Corp. (STAR Corp.), the exclusive distributor of BYD vehicles in the Philippines, launched its BYD Tulong Tuesdays Campaign, which offers Emergency Roadside Assistance to motorists and car owners plying the streets of the City of Mandaluyong.
The campaign is open to all types of cars and brands and will be carried out on all Tuesdays from 9:00 a.m. to 5:30 p.m. by the BYD BRO Mobile Assist together with BYD's trained and highly skilled technicians in agreed areas within the City of Mandaluyong.
"The BYD Tulong Tuesdays Campaign is our way of giving back to the citizens and the city of Mandaluyong for the two years that we have been in operations," shared STAR Corp. Managing Director of STAR Corp., Mark Andrew Tieng.
Present at the campaign's launch, which was held at the BYD showroom at Shaw Boulevard, was the honorable Mandaluyong City Mayor Benhur Abalos, who expressed his appreciation and excitement for the BYD Tulong Tuesdays Campaign.
"I'm looking forward to the campaign, which I believe can help the Philippine National Police Highway Patrol Group in harmonizing the city's traffic system, especially nowadays when we are experiencing heavy traffic along Shaw Boulevard since concentration of the traffic alleviation efforts are focused on EDSA." said Mayor Abalos.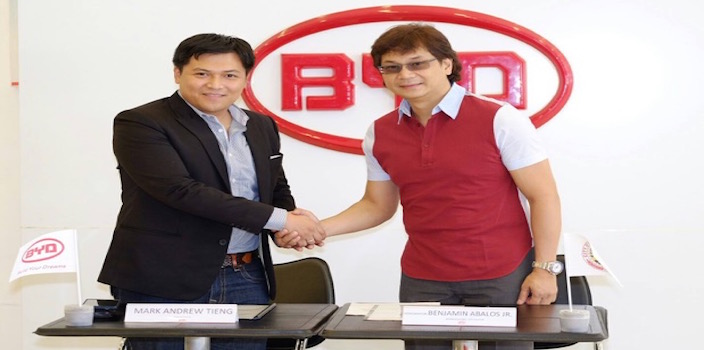 Mandaluyong City Mayor, Benjamin "Benhur" Abalos, Jr. (Right) and STAR Corp Managing Director Mark Andrew Tieng (Left) sign Memorandum of Agreement to conduct Emergency Roadside Assistance to motorists and car owners plying the streets of Mandaluyong through the BYD Tulong Tuesdays Corporate Social Responsibility campaign.
"I would like to thank Mr. Mark Tieng and BYD Philippines, for this initiative, which I'm sure it will be successful," stated Mayor Abalos, who has been known for personally apprehending drivers, who violate traffic rules. During his remarks, Mayor Abalos committed to show his support for the BYD Tulong Tuesdays CSR campaign by sending the City of Mandaluyong Police and Traffic Department to provide help and assistance every Tuesday as BYD BRO goes around the city.
BYD Tulong Tuesdays is a STAR Corp.'s way of extending the same 5-Star service commitment it provides to BYD customers to the motoring public.
Visit www.byd.com.ph or www.facebook.com/BYDPhilippines for details.