Ford Philippines recently kicked off its annual Driving Skills For Life (DSFL) program, a globally recognized campaign which aims to reduce accidents on the road by educating motorists about safe and responsible driving.
This year, the Ford DSFL runs with the theme, "Smart Driving, Protecting Lives, Saving Fuel." This is in relation to the now-implemented Anti Distracted Driving law by the Department of Transportation (DOTr).
Ford Philippines upholds DOTr's mission to promote discipline on the road, which is why it beefed up this year's DSFL program by also educating drivers who use public utility vehicles (PUV) such as taxis, jeepneys, and busses, as well as private vehicles used for online ride booking services. According to Ford Philippines, it recognizes the PUV drivers' role as critical in ensuring the safety of everyone on the road, especially in Metro Manila
To kick off the program, Ford Philippines sought partnership with Uber Philippines, an app-based ride booking service company. As regard, about a hundred Uber drivers were invited to get first dibs on various lessons about vehicle maintenance, road safety, driving discipline, and fuel-efficient driving skills. Delivering the Ford DSFL message is JP Tuason, a racecar driver and owner of Tuason Racing School.
Tuason highlighted the kick-off program with the discussion on the dangers of using cellphones while driving. Seeing that most Uber drivers use their smartphones while on transit, chances of accidents occurring run high due to distracted driving.
Tuason advised that the trip must be set ahead of time before heading out. If there's a need to check the device, one should find a safe and non-traffic-obstructing place to stop such as road shoulders, refueling stations, or parking areas of fast food restaurants as this author has experienced many times on his Uber rides.
After Tuason's 1-hour lecture, a hands-on activity for the attendees was conducted. Using the latest model of the Ford EcoSPort subcompact crossover and the Ford Focus compact hatchback, each attendee was given a chance to apply the lessons learned, including the difference between the reaction time of driving while texting vs. driving with full attention on the road.
In months to come, Ford Philippines will expand the DSFL program to regions such as Rizal, Pampanga, Baguio, Batangas, Laguna, Cebu, and Davao. It also plans to invite at least 1,500 drivers to attend its training sessions. In addition, Ford Philippines says that its DSFL training programs are also open for its employees, as well as for licensed student drivers, customers, corporate fleet accounts, and car clubs.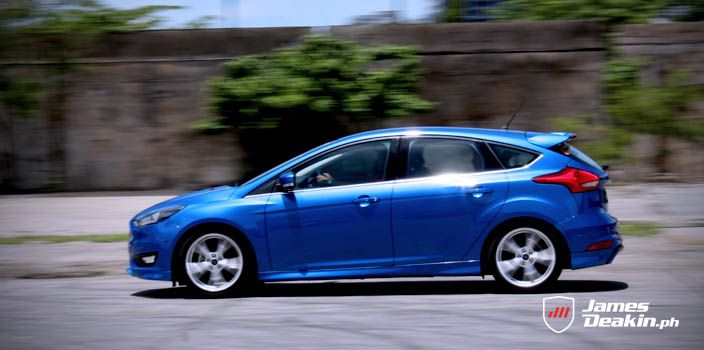 Since its local launch in 2008, the Ford Driving Skills For Life program, which has been customized for the Philippine environment and road conditions, has attracted more than 20,000 Filipinos to take part in its educational training sessions.
Photos by: Randolph De Leon