The star of the Honda booth at this year's Manila International Auto Show 2017 was admittedly the Civic Type R. Filipinos were able to see the iconic Honda up close and personal for the very first time in an "official capacity" as it joins the rest of the lineup. Yet in true Honda fashion, the Japanese carmaker has prepared a lot more than just the hot hatch.
Visitors to MIAS 2017 were likewise treated to a buffet of concepts and exclusive variants of the rest of Honda's product range. Honda Cars Philippines Inc's newest baby the BR-V, for instance, wowed guests with a specially-designed Honda BR-V 1.5 V Navi Modulo Complete accessories Edition (photo above). The concept gets a more athletic look with tailgate garnish, door visors, and 16-inch alloy wheels. The cabin likewise gets the Modulo touch with sport pedals and a cargo tray for added pizzazz.
The equally popular Honda Civic RS Turbo likewise receives a concept treatment with the Civic RS Turbo Modulo Sport Concept. This one sports a Rally Red paint finish that is complemented by black roof, black under spoilers, and ebony door mirrors. Modulo side step and fender garnish, a Modulo emblem, and blacked-out 17-inch alloy rims complete the sporty stance.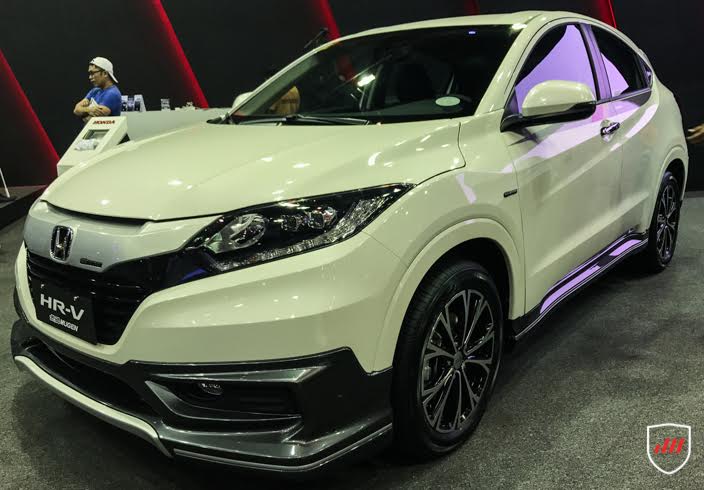 While the Civic and BR-V Modulo are concepts to whet our appetites, HCPI is offering a couple of special models to further spice things up. Besides Modulo, Mugen is also making things a bit more exciting, particularly for the Honda HR-V. The HR-V 1.8 EL Mugen adds goodies to the standard Mugen kit. These include a new Mugen front grille, side stripe sticker, and rear spoiler. The look is further distinguished by 17-inch alloys, front, side and rear under spoilers, and Mugen emblem. Inside, a Mugen ornament is placed on the center console for added style.
Customers who fancy the HR-V Mugen can actually order one today. Suggested retail prices are P1,410,000 for the HR-V 1.8 E Mugen, and P1,520,000 for the HR-V 1.8 EL Mugen variant. Deliveries will begin this June.
Last but definitely not the least, HCPI offered an exclusive City 1.5 VX Navi MIAS Edition. Sold solely at MIAS 2017, this number adds stuff like daytime running lights up front, Modulo front, side, and rear under spoilers, and a ducktail trunk spoiler. The cabin gets a cool set of welcome lights for added safety when entering and exiting the vehicle. Only eight (8) units were made available during the four-day event. Each one was sold for P958,000.
With the theme "Joy in Motion" as its guiding principle, the Honda booth gave happiness to each client who checked out the extensive line of Honda vehicles. For more information, kindly visit Honda Cars Philippines, Inc. website.