Your Monday morning drive to work or school shouldn't always be about bad vibes and all that everyday hassle on the road. You should also make room for the good vibes. God vibes such as the free breakfast treats which McDonald's will be giving away!
Yup, you got that right The American fast food giant is at it again with its quirky ways to make Filipinos happy! This time, it's all about celebrating the 5th National Breakfast Day.
In detail, the McDonald's 5th National Breakfast Day will happen on March 13, 2017 from 6:00 a.m. to 7:00 a.m. All you have to do is to drive down to your nearest McDonald's restaurant. There, you'll be greeted by a McDonald's crew who'll hand you a National Breakfast Day coupon. Next, present the coupon to the counter to claim your free breakfast either for dine-in or take-out and… voila! You're off to a great Monday morning!
But wait a second… What are the free breakfast treats to be given away? This year, McDonald's will offer a choice between the Egg McMuffin, the Sausage McMuffin, and its newest breakfast menu entry; the Burgerdesal.
Highlighting the new food item, the Burgerdesal is McDonald's take on a classic Pinoy breakfast staple; the hot "pandesal" bread with "palaman" or filling. At the heart of this sandwich is a juicy burger patty that's laden with a sweet, flavorful sauce – best paired with a cup of freshly brewed coffee or hot coco.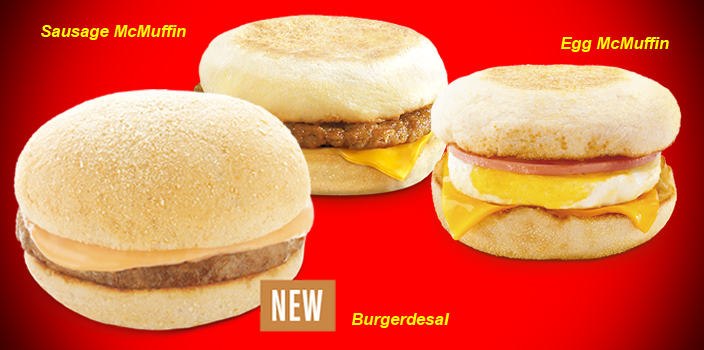 And here's more good news. Right now, McDonald's is selling the 5th National Breakfast Day coupons for only P49. But why sell the coupons if they're going to be free on March 13? This is because buying the coupons ahead of time can earn you treats such as a hash brown and a drink (coffee or orange juice), an extended time limit to grab the free sandwich (up to 10:00: a.m.) on March 13, and an option to avail the free sandwich via drive thru on March 13.
Do remember that McDonald's allows 1 coupon only per person.