Suzuki Philippines announced the launch of the new amped up Suzuki Swift 1.2 and Suzuki Dzire which both feature snazzier looks and more advanced innovations.
Subcompact car lovers who have been greatly impressed with these two vehicles can brace themselves for the arrival of the new amped up editions of these well-loved models while retaining the great value and fuel efficiency Suzuki automobiles are known for.
⠀⠀⠀⠀⠀⠀⠀⠀⠀⠀⠀⠀⠀⠀⠀⠀⠀⠀⠀⠀⠀⠀⠀Swift 1.2: Fast-forward to the new edition
Once stylish and luxurious, Swift 1.2 2015 is distinctly bolder, more premium than its predecessor. The 1.2-liter Swift gets a new front grille and fog lamp bezel complete with chrome accent. The front bumper design shows a new scheme with sharper edges for a fiercer bearing. Moreover, the alloy wheels have been enhanced with wider spokes.
Interiorly, fabric seats showcase diagonal pattern and part of the rear seatback folds down for added cargo space when needed. This subcompact car comes with a new touchscreen multimedia and navigation-ready audio unit that will give ease to any Swift 1.2 owner.
The new Suzuki Swift 1.2 is now available in Suzuki outlets nationwide. Prices start at Php 628,000 for manual transmission and Php 668,000 for automatic transmission models, available locally in Solid Fire Red, Mettalic Silky Silver, Prime Arctic White, Pearl Midnight Black, and Metallic Glistening Gray.
⠀⠀⠀⠀⠀⠀⠀⠀⠀⠀⠀⠀⠀⠀⠀⠀⠀⠀⠀⠀⠀⠀⠀⠀⠀⠀⠀⠀Advanced Swift Dzire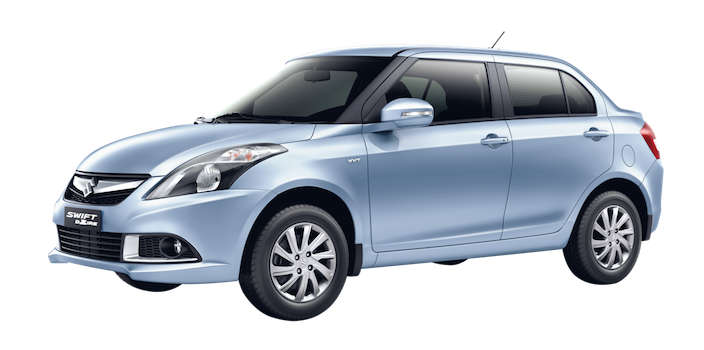 A different allure is offered by the Swift Dzire released this year. Drivers who are already attuned to the current model will happily find more of the same power and efficiency they've always loved in the new version.
Externally, a new chrome accent front grille greets the owners of the upgraded Swift Dzire GL which shows off a sporty bumper design with chrome accent fog lamp bezel. It also displays new black-out headlamps and 14" alloy wheels for a more stylish look. The interior is enveloped in elegant black with silver accents. Fresh fabric designs on the car seats vary in patterns depending on whether the Dzire car buyer gets the GL or the GA variant. It is now equipped with a TFT touch screen audio head unit with USB and Bluetooth connectivity and optional navigation system.
The all-new Swift Dzire manual transmission unit retails for Php 568,000 while the A/T variant with GPS retails for Php 718,000 coming in color variations: Prime Alp Blue, Prime Arctic White, Metallic Silky Silver, Metallic Magma Gray, and Pearl Sangria Red.
For more information about Suzuki Philippines and the all-new Suzuki Celerio, please visit www.suzuki.com.ph and like them on Facebook: www.facebook.com/suzukiautoph.