Last September 9, 2017, the Bonifacio High Street in BGC Taguig saw an epic battle of mind over matter as this year's Subaru Palm Challenge Philippine Face-Off went underway. A total of 52 participants heeded the call to take the challenge, but only 10 prevailed.
In brief, the Subaru Palm Challenge is a unique endurance test wherein participants would hold on to the Subaru car for as long as they can. It gets even tougher as these challengers would face the elements for long hours like intense heat, torrential rain, and the occasional friendly bashing between fellow participants. Moreover, an assortment of mini challenges would be presented by the event organizer and sponsors to weed out the toughest among the batch.
Organized by Motor Image Pilipinas, Inc., the official local distributor of Subaru vehicles, the 2017 Subaru Palm Challenge Philippine Face-Off winners would receive cash prizes and a trip to Singapore to represent the country in the Regional Challenge to be held in a few months time. There would be great prizes at stake, including the ultimate reward, a brand-new Subaru Impreza to be given to the final challenger who would conquer the odds.
At exactly 11:00 a.m., the clock started counting. Everything was all good and smooth-sailing until about 30 minutes in when challenger #25 reached her limits and voluntarily withdrew from the event. A couple of hours later, dark clouds soon poured down a strong shower that brought a momentary relief for the participants who , by that time, were already baking under the heat of the sun.
At about 6:00 p.m. the number of challengers was already reduced in half. Many would be caught letting go of the car or voluntarily quit. At that moment, the first break was announced. This was a 5-minute break which the challengers badly needed to use the portalets, relax a bit, drink water, and eat energy-boosting snacks.
After the break, the challenger resumed. With only 26 challengers holding on, one of the event sponsors, Shell V-Power Plus, brought out a mini challenge which dropped the number of participants to only 10. These 10 people were Jaspher Ivy H. Galaura, Lyza Joyce Montejo, Reggie Purugganan, Juan E. Furiscal Jr., Carlo T. Talahib Sr., Mark Joseph Trinos, Donn Michael Yap, Alex Neblasca, Rheden G. Pinoliad, and Juntie G. Torres. They're all assured of their Singapore trip and a P5,000 cash prize.
But it wasn't over yet as they were still ordered to hold on to the car. It wasn't until the event host James Deakin presented a final mini challenge that determined the true "last man standing." That challenger was Juntie G. Torres who endured 10 hours, 57 minutes, and 50 seconds. For that, he received an additional P10,000 cash prize.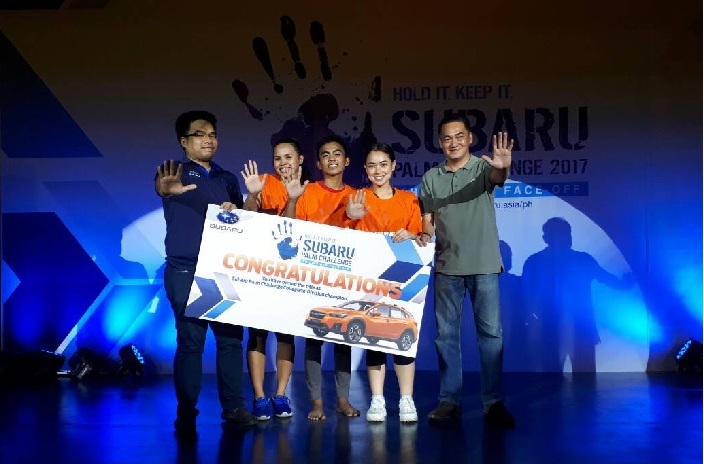 The day after, the 2017 Subaru Palm Challenge Collegiate Edition was held. This attracted 23 college students to take the challenge and win themselves some cash prizes for the schools or universities they represent.
The top 3 winners for this challenge were Joyce Enage (Rizal Technological University), Shana Costillas (Rizal Technological University), and Vincent Ragudo (Fatima College). They all went home P5,000 richer, but Ragudo endured the longest at 4 hours, 51 minutes, and 6 seconds. This earned him an additional P30,000 for his school.
The Journey for the 10 winners of this year's Subaru Palm Challenge Philippine Face-off continues as they'll be sent off to Singapore for the ultimate challenge and the ultimate reward. They'll be going up against teams from other countries such as Cambodia, China, Hong Kong, Indonesia, Malaysia, Taiwan, Thailand, and Singapore (the host country).