When individuals who share the same passion for dance and music come together, everything turns electric. There's something about dance groups that never fails to entertain, captivate, and excite audiences. Great performances can make you feel and experience that overflowing expression of emotion and passion.
Renowned dance company UPeepz exemplifies these as they proudly represent their alma mater locally and internationally, and helping them in honing their craft is the powerful, punchy bass of Sony's EXTRA BASS audio system.
A company composed of different dance styles and people of unique backgrounds, UPeepz prides themselves in being open to new experiences and individuals. There is no harboured prejudice to anyone as the passion and love for dance serves as the ultimate common denominator. UPeepz always seeks to strike the right balance between having fun and training seriously in preparing for gigs and competitions. As the team continues to set the bar higher for themselves while inspiring others in the dance community, they commit to no less than excellence, which entails hours and hours of rehearsals.
Music plays a vital role in the life of dancers. It's their bread and butter. "Sound quality is something that we cannot take for granted because choreographers are always looking, digging, and indulging in every beat and rhythm to best interpret music for our dances. We've been known for our hard-hitting, bass-pumping routines, so Sony's EXTRA BASS technology captures that true, aesthetic listening experience, from practices to performances," said Chips Beltran, UPeepz Director.
Aside from dance rehearsals and performances, one can bring the party anywhere with Sony's GTK-XB7 High-Power Home Audio System with Bluetooth, a portable, powerful one- box system that delivers heart-pumping beats perfect for moving and grooving to the music.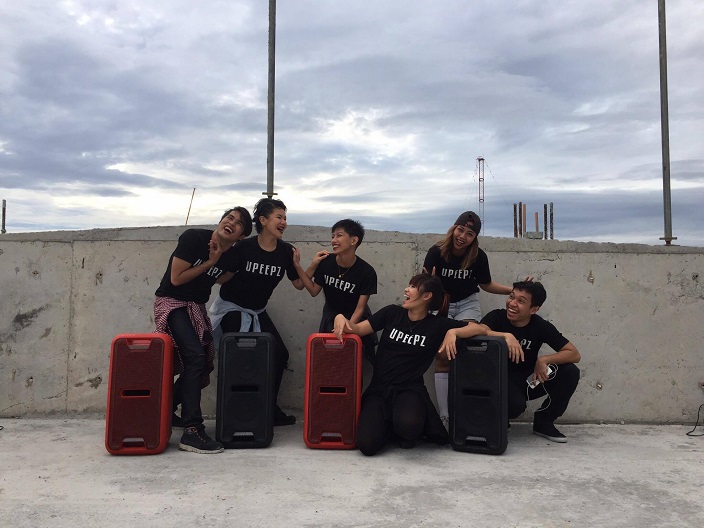 The LED lights on the speakers, bold and vibrant unit colors, easy Bluetooth connectivity (NFC touch), and Party Chain option set the party atmosphere and mood for music and dance lovers. Sony EXTRA BASS ambassadors UPeepz have also been raving about the GTK-XB7, saying how it is tailor-made for dance groups like them and harping on how it feels like every training turns into a party with EXTRA BASS. The speakers are also the life of dinner and house parties. The party-starting sound quality makes Sony an entertainment essential for any occasion.
"We find the speakers really strong and are very convenient with its seamless connection capability to our devices —phones and laptops that contain our mixes. Did I also mention how gorgeous they are? The colors really pop out and the lights get the attention of everyone in the room. More than its eye-catching look, the superior sound quality and the functionality are the things we love most about it," Chips shared.
UPeepz's style and genre embraces diverse routines beyond bass-pumping and hard-hitting songs. They also specialize in genres ranging from RnB, Jazz, OPM, and whatever suits their mood or seems fun to dance to. UPeepz continues to let people feel the passion and feel the bass through dance as ambassadors for Sony EXTRA BASS. "We've had so much fun so far, and can't wait for more projects collaborating with Sony! Dance and music is what keeps us on our toes, and we always strive to produce quality art that bonds us as one family and hopefully inspires others in the process."
"We at Sony will always push for people to discover their passions in music, sound and visuals. We work on getting the right products to our customers and make it a point that our technology will provide them with an immersive experience they want. Our EXTRA BASS products, such as the GTK-XB7, will help fuel our customers' passion for deep, punchy music," said Mr. Nobuyoshi Otake, President and Managing Director, Sony Philippines.
To learn more about the various home entertainment products spanning EXTRA BASS, visit the Sony Centers and Authorized Dealers across the country. For more information, visit www.sony.com.ph, or follow twitter.com/SonyPHinc  and Instagram.com/sonyPHinc.