Since its founding in 2014, AutoDeal.com.ph has pulled out all the stops in making itself the Philippines's no.1 online car buying portal.
This quick rise to success prompted Frontier Digital Ventures (FDV), a Malaysian-based online classifieds expert, to grant it an investment amounting to $AUD3.1-million (around P115.6-million).
With fresh funding on hand, AutoDeal.com.ph will be able to increase its resources and further develop its core product well into the coming years, with plans to ramp up its used car classifieds market gain by 2018.
In light of this momentous achievement, AutoDeal.com.ph Co-Founder and Chief Executive Officer Daniel Scott said, "In addition to enhancing our existing product features, we'll also be using the funding to further expand into used cars and to open several new automotive sub-verticals. This new investment from FDV marks a new chapter in our company's journey and will help us further solidify our stance as the no.1. automotive portal in the country."
Scott's statement holds true, seeing how he and AutoDeal.com.ph Co-Founder/Chief Operating Officer Christopher Franks, built the company from the ground in 2014. After their first online automotive classifieds company Pinoy Auto Trader closed in early 2014, Scott and Franks wasted no time and created AutoDeal.com.ph with seed funding from FutureNow Ventures.
From that initial spark, AutoDeal.com.ph has grown to more than 1.6-million visits per month on its website, making it the country's no.1 online automotive portal. Its official Facebook page, on the other hand, boasts a total of 372,601 likes and counting, as of this writing.
So, why choose AutoDeal.com.ph?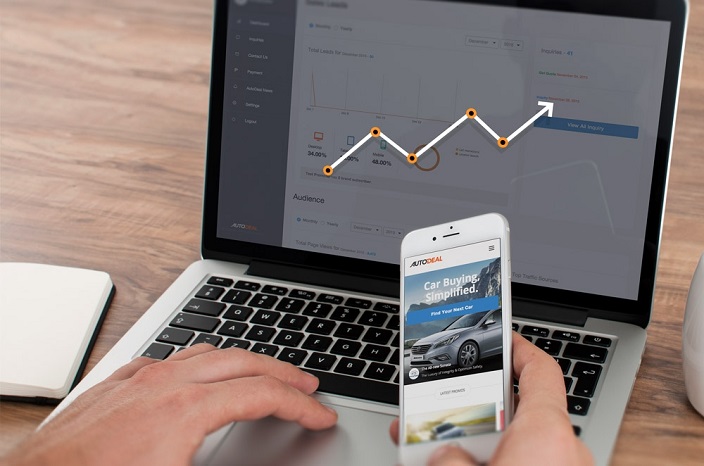 Photo from AutoDeal.com.ph's "
Defining AutoDeal's Value to Brands, Dealers, and Sales Agents
" article, December 2015
AutoDeal.com.ph helps buyers compare car prices, find promos, and connect with dealers no matter where they are based in the country. It also partners with more than 300 dealers nationwide, as well as official automotive distributors and manufacturers, thus ensuring the protection and legitimacy of both buyers and sellers.
With its comprehensive lead management system which operates on both desktop and mobile platforms, AutoDeal.com.ph's clients on both sides of the car buying fence are able to track online to offline sales conversions, response times, and conversion rates, among others.