This just in. The Land Transportation Franchising and Regulatory Board (LTFRB) has filed a 1-month suspension of Uber Philippines's operation in the country. The said penalty will take effect tomorrow, August 15, 2017 and will last for 30 days.
In detail, the 1-month suspension came after the transport network company (TNC) in question was ALLEGEDLY reported to have violated LTFRB's directive which it issued July 2016. The directive heavily imposed that no TNC (Grab, Uber, etc.) will accept new driver applications until such time these companies submit complete, proper, and legal documents to operate in the country.
Fast forward to present time, it was later revealed (though not officially confirmed nor denied) that Uber Philippines is still continuing to accept new drivers and allow them to work despite the LTFRB hold order.
The 1-month suspension also bans the operation of  Uber drivers duly accredited by LTFRB prior to the July 2016 hold order. This means that even if the driver is clean with his/her papers complete and properly checked by LTFRB before July 2016, he or she will still be apprehended by the authorities during the 30-day suspension.
The LTFRB, however, ordered Uber Philippines to provide financial assistance to its affected drivers/operators during the suspension period, citing that these drivers/operators would not have been compromised if  not for its "predatory action." In addition, LTFRB has yet to announce if it would also impose the same heavy penalty to Grab and other TNCs operating in the Philippines.
Here's a copy of LTFRB's advisory.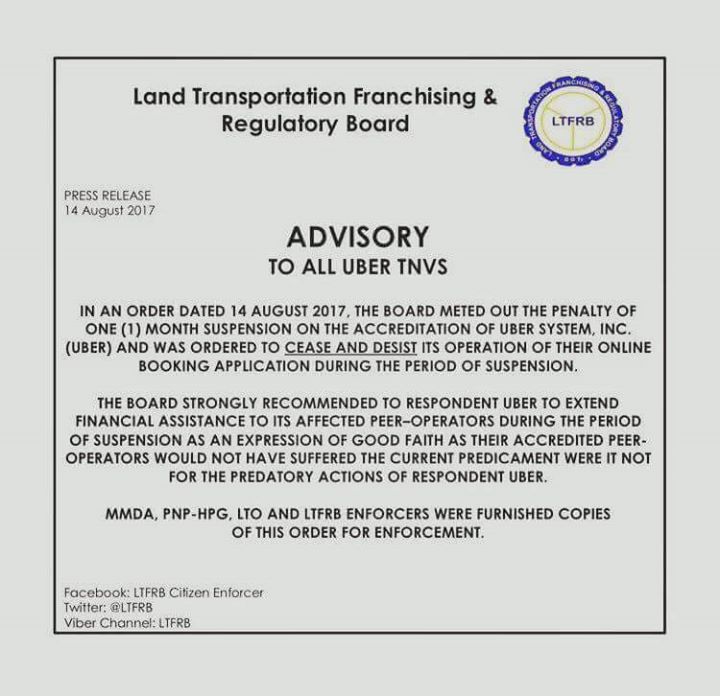 UPDATE (August 15, 2017 - 12:00 nn):
Uber Philippines has filed a Motion for Reconsideration addressed to LTFRB regarding its 1-month suspension. It was dully-accepted by the government agency, thus allowing Uber Philippines to resume its operation, provided that it irons all the legal issues it has with LTFRB and other concerned agencies. Here's a copy of the said Motion for Reconsideration as posted on Uber Philippines's Official Facebook Page.