After an exhilarating wheel-to-wheel action in Round 1, the Toyota Vios Cup, which is organized by Toyota Motor Philippines (TMP), headed back to the Clark International Speedway (CIS) in Pampanga last June 10 for Round 2 of its 2017 season calendar.
As expected, an equally exciting weekend of on-track action ensued as over 50 drivers representing different Toyota dealerships battled it out for the win in the said racing event's Promotional, Celebrity, Sporting, and Super Sporting classes.
Race 1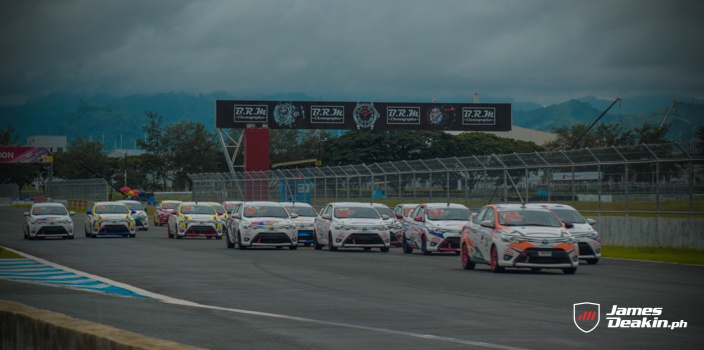 The day's agenda began with a slightly damp and slippery start to Race 1 of the Rota Promotional Class. Right off the bat, Don Vic Portugal (Toyota San Pablo) took command of the lead from pole-starter Evelyn Coseteng (Toyota Alabang). Not far behind was Red Diwa (Toyota Isabela).
The trio would finish the race in that order, but the highlight of the moment was in the mid-field battle from lap 8 onwards. Marc Soong (Obengers) and Arbie Jacinto (Toyota San Pablo) found themselves locked in a fierce stand-off, swapping places and coming into contact with each other in more than one occasion. In the end though, the former crossed the line in 5th place ahead of the latter in a close 6th.
The Rota Promotional Class also included the Rota Celebrity Class, which was dominated by Dominic Rorque. His strong show of force earned him a 1st place victory over Ella Cruz who crossed the line in 2nd. Gretchen Ho came 3rd. The 3 drivers would also finish in that same order on Race 2 later that day, albeit a more hair-raising experience for Roque as he almost lost the race to a couple of slips while challenging Red Diwa for the race lead.
In Bridgestone Sporting Class, pole-starter John Effinger had his lead cut short as he slid off to the grass during the opening lap. This gave room for Paulo Agregado (Obengers) to take the lead. But it wasn't easy for him as Aira Medrano (Toyota Alabang) and Mark Sy (Toyota San Pablo) kept the pressure on high until the end. As the dust settled, Agregado claimed 1st, followed by Sy in 2nd, and Medrano in 3rd.
As for the top-seeded Total Excellium Super Sporting Class, Round 1 winner Daniel Miranda (Obengers) started on pole with an added 60 kg of weight on his machine. Despite this handicap, he kept the pace strong as he defended his lead against the hard-charging Andres Calma (Toyota Bacoor/GM Motorsports). On the closing laps, the battle between the 2 drivers intensified, but Miranda reigned supreme. He took home 1st, followed by Calma in 2nd, and Gerard Loy (Biskeg) in 3rd.
Race 2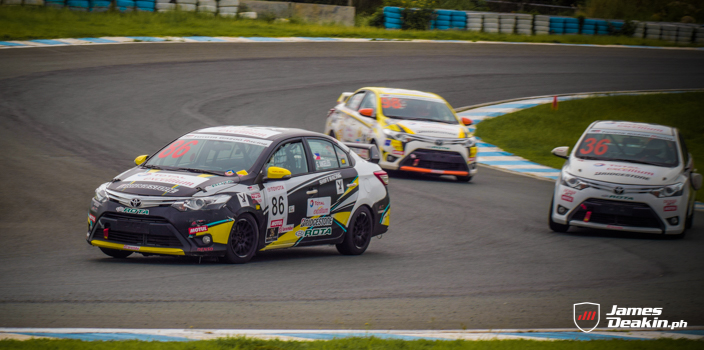 The activities continued in the afternoon with a still-wet start to Race 2 of the Rota Promotional Class. After an action-packed opening lap which saw a huge pile up on turn 1, Red Diwa emerged as the new leader. His determination to defend the position paid off as he crossed the line in 1st, ahead of Gel Napat (Biskeg) in 2nd and Don Vic Portugal in 3rd.
In Bridgestone Sporting Class, Senator JV Ejercito (obengers) pulled off a brilliant performance as he clinched 1st place victory over Tonton Ramos (Toyota San Fernando) and Mark Sy in 2nd and 3rd places, respectively.
Finally in Total Excellium Super Sporting Class, race 1 winner Daniel Miranda started off in 6th place due to the reversed grid order rule. He's machine also carried an additional 30 kg of weight to even out the competition. But despite these handicaps, his showed his true grit by still coming in 1st ahead of Gerard Loy in 2nd and Ramon Tanjuatco (AP Corse/Toyota Makati) in 3rd.
Because of this victory, Daniel Miranda will be challenged with an additional 60 kg of weight on his machine coming into the series' 3rd round on September 9, 2017.