Over the past year or so, I have committed myself to this little pet project where I spend a day or more in the life of someone we share our roads with. It started out with a day in the life of an ambulance driver (which was the scariest experience to date), then a race car driver when I entered the Vios Cup, to a day in the life of a jeepney driver, a taxi driver, and finally, just last week, a bridal car driver.
I just find that it is a great way to build empathy with people by walking in their shoes for while. And, more importantly, sharing their stories, in the hope that we can all be a little more understanding of one another and breed some much needed road courtesy. I know, I know, it may seem like sword fighting a windmill, but if it just helps one person be more courteous, who in turn helps another, then it will be all worthwhile. Call me a dreamer, but as far-fetched as it may be, that's exactly what got me into the greatest job in the world to begin with.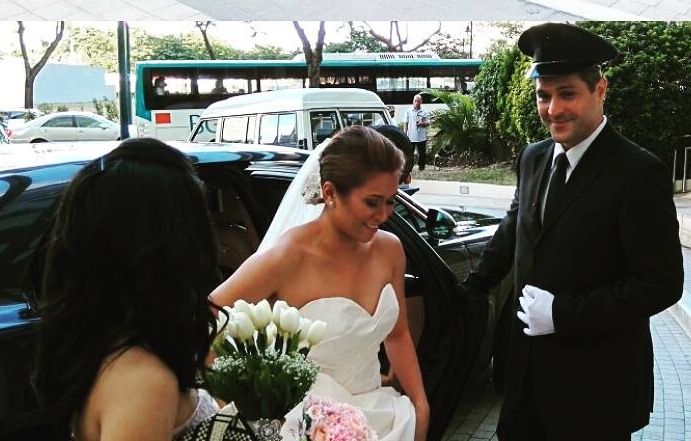 So back to the story. I knew my neighbour was getting married, so I asked him if he had a car arranged. To my surprise, he didn't. Especially considering that his wedding was a week away. There was some vague plan about borrowing from a friend, but otherwise nothing. So I offered him my services, and told him about the catch.
I promised to provide the car and driver (which would be me) and committed to taking the bride from the hotel to the ceremony, then to the reception, then eventually back to the hotel. Basically I would be at her beck and call for the entire day. My only condition was that he allow us to film it and air it on Drive on CNN Philippines and write about it here. That, plus he wasn't allowed to tell the bride. That part had to be the surprise.
He agreed. Now here's where it got interesting. I called up the good folks at PGA in the hope that I could sweet talk my way into an Audi A6 or A8. Once I explained what I was doing, however, they called me back and offered me the chairman's personal Bentley Flying Spur––which is a 12 cylinder piece of fine jewellery that happens to seat four in absolute comfort. It all seemed too much, but hey, beggars can't be choosers, right?
I called the groom up and asked him if he wanted to know what it was––in the exact same tone as a gynaecologist would ask an expectant couple if they would like to know the sex of their child. He played it the old school way and said, "surprise me". And just as well. Because the very night before the wedding, PGA sent me a message and said they would no longer loan me the Bentley of Mr. Coyuito. I was crushed. It was like someone had put out a cigarette on my heart. With their foot.
Then came the next message a second or two after. At first I thought I read it wrong because my eyes were filled with salty tears, but after wiping them away, it really did read: "We have decided to upgrade you to the Bentley Mulsanne." All 33 million pesos of it. I must have said thank you in 17 different languages and punctuated it with every happy emoticon on the app store, before screaming into a pillow until I passed out.
Now for the big day. The foreplay started about an hour before I picked her up, via a simple text message that read: "Sir, your Bentley is ready." It was incredibly surreal; it felt like I was about to date royalty. I pulled up to PGA cars and walked down through the private basement where you'll see old Porsches and other treasures, and spotted her in the main driveway bathing in all the attention.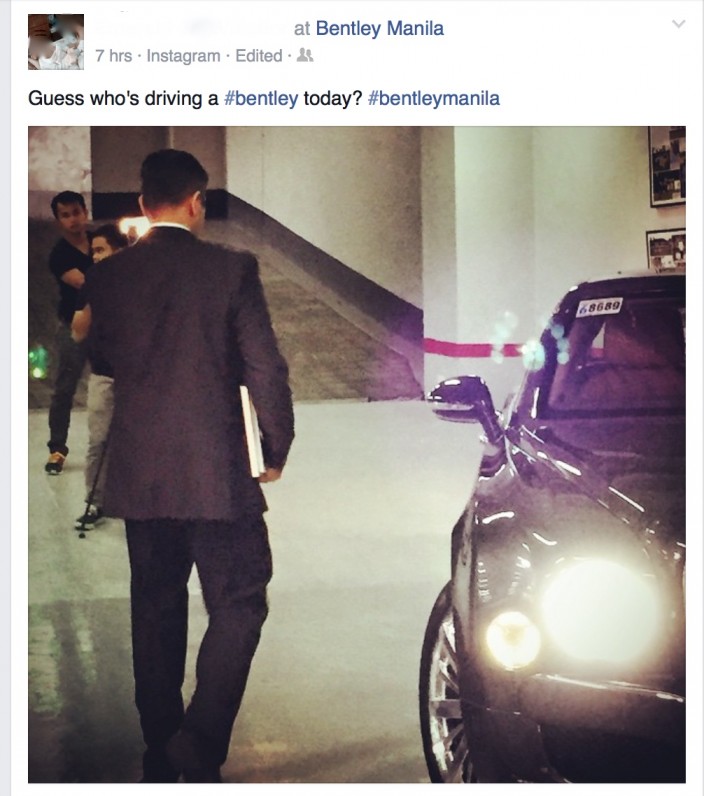 There she sat in all her splendour with an entourage of people fussing over her like a supermodel sitting in her make-up chair before a magazine cover shoot. Once the cameras were very carefully fitted, I pulled out of PGA with a smile shinier and wider than the trademark Bentley grille that gleamed up the front of that six and three quarter liter hand-built V8 engine that purred like an expensive cat, as it gracefully wafted through EDSA like a steam iron floating across a crumpled linen shirt. I could barely feel a thing underneath me; I could have been driving across cheese for all I knew. It was that smooth.
I was surrounded by a mixture of premium leather that was farmed exclusively for Bentley from the northern regions of Europe (where there is no risk of insects biting the cows and leaving even the slightest microscopic imperfection) and wood that had to be at least 80 years old before it is considered mature enough to go through their 5-week, in-house, veneering process.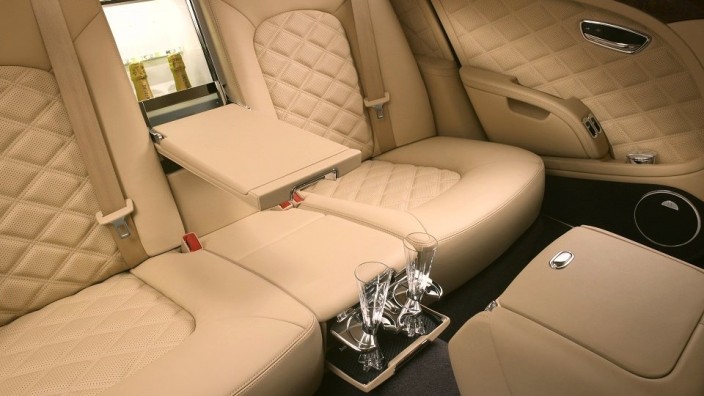 I arrived in a proper chauffeur's attire, with white gloves and a chauffeur's cap graciously lent to me by the Sofitel Manila, who were only too happy to help make it all perfect. In fact, the whole production behind this was starting to get pretty epic, with camera crews, PR people, hotel staff and the need for extra security. All this just to be able to see the joy in the bride's face when she realises all of this was done exclusively for her on her most special day.
I was given priority parking on the driveway of the Manila Peninsula Hotel, where I was told to wait for the bride. And wait. And wait. And wait. The coordinator says, "Ok, five minutes before she arrives." So we all get into our positions and wait. And wait. And wait. An hour later, she comes down the grand staircase and makes her way through the majestic lobby, out the specially cordoned off doors just for her, on to the red carpet that led straight to the back door of the Mulsanne, which was being held open by me.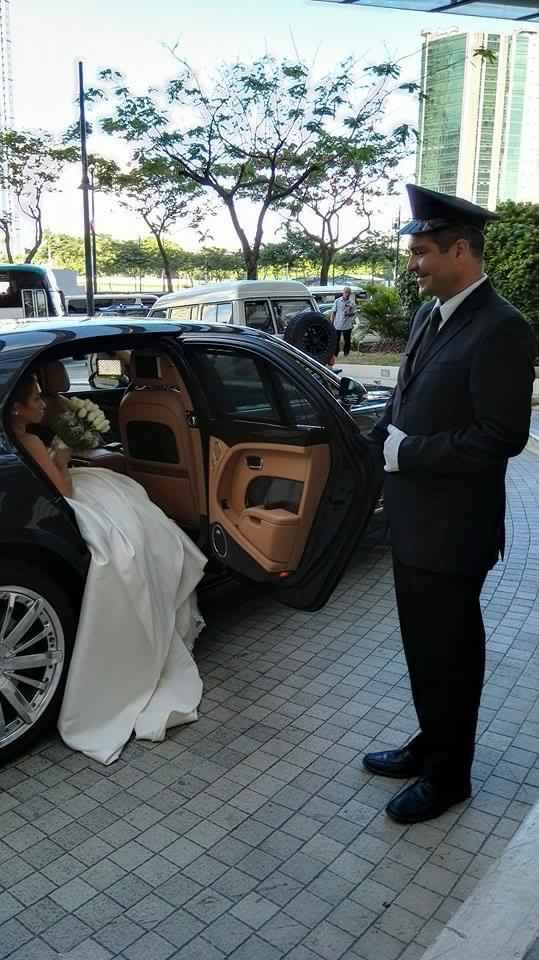 Cameras trained on her, waiting to capture her every expression once the proverbial penny dropped. I watched her walk down looking for even a fraction of the star struck awe that filled me when I first laid eyes on the Mulsanne. Nada. Zilch. Deadma. I may as well have been holding the door of one of those generic cars that banks use for Auto Loan ads when they can't show a brand. I was crushed. And just to kick me when I was down, I was reminded by the guard as I was about to drive out that I was also coding. In Makati.
The first thought that sprung to mind was Tom Hanks voice in my head saying, "Houston, we have a problem." The first minute or two of the ride went by in complete silence as I struggled to cope with the ambivalence. That, plus the fear of the opposite, which is being noticed by the notoriously sharp eyes of the Makati cops who can spot an ending plate number fast enough to make the American Sniper look like he needs reading glasses.
Ironically though, as much as the car stands out, it was also invisible to the enforcers. Kind of in the same way that magicians use the power of drawing your attention somewhere else so you miss the big picture. It was amazing. Especially because with the absence of flowers on the grill (that was another condition. Nothing covers the iconic grill) there was nothing to say we were a wedding car. Regardless, the cops were too busy trying to see who was in the car than the plate. It was brilliant.
Then, just as I crossed EDSA to go to the safety of the coding-less Taguig, the bride started looking around and eventually said, "This is a really nice car. What is it?" So I replied in my coldest, British tone (I was still making tampo) it's a Bentley. To which she replied. "@%&*! I can't believe I'm riding in a Bentley! @#$%!
Turns out that with all the pressure of the wedding, as well as the endless instructions from coordinators, photographers, videographers etc, she just had tunnel vision. She recognised me and went straight to the car not realising what it was. But as soon as she did, it was worth absolutely every minute and every effort.
The rest of the ride was taken up mostly by selfies and thank-yous, with giggles and smiles and laughs that came from the toes up and resonated across the cabin infecting anyone that was in contact with it. And it was in that moment that I was reminded once again about the incredible effect a car can have on people. Many people think that a car is a car is a car, but it is brands like Bentley that exist solely to transcend that.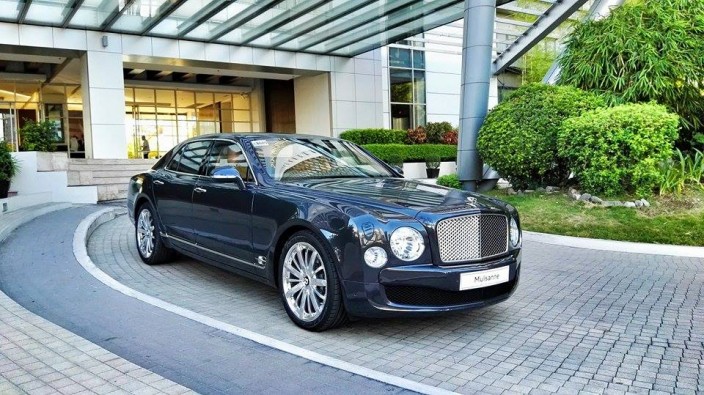 My day ended close to 2am, and aside from pulling a cruel prank on the couple (where I hit the inside of my door with my hand while I'm backing up while simultaneously dabbing the brakes to fake that I've hit something) the day went perfectly.
So what was it like being a bridal car driver for a day? Well, if I'm completely honest, I think today was a little too fabricated to give you a true account of what its like simply because of the overwhelming generosity of PGA cars and its chairman, Robert Coyuito Jr., which made it more fairy tale than reality. Like, seriously, how many bridal car companies would have a Mulsanne? But there were several things I did learn and appreciate.
Firstly, there's a lot of waiting. As in, a lot. Most bridal car hires rent it out in 3-hour stints, but a true bridal car driver sets aside a whole day to be exclusive to the bride. Yes, the groom is secondary. He just gets to hitch with her back to the hotel. It is all about her. In fact, it's a wonderful preparation for marriage when you think about it.
Secondly, you have to be a very, very good driver. Smooth, attentive, and extremely careful so as to never, ever, put a bride in the embarrassing situation of being pulled over for an offence, or worse, an accident. You also need impeccable manners and hygiene, plus either a deep knowledge of the city or at very least a well researched route to avoid traffic, getting lost, or entering un-passable areas. Case in point, I attended a wedding where the bridal car got stuck simply because it was too low for the road leading to the reception. The bride had to get out and take another car, and as it was a broken dirt road, got her dress dirty.
It is little things like that that make the biggest difference, and when it comes to the transportation, the pressure is on the driver to ensure it goes as perfectly as the bride planned it when she was still nine years old and watching Disney movies. But so long as you are good with that, it was the cushiest one so far; privileged parking, driving luxurious cars, and most of all, being part of the happiest day of a person's life.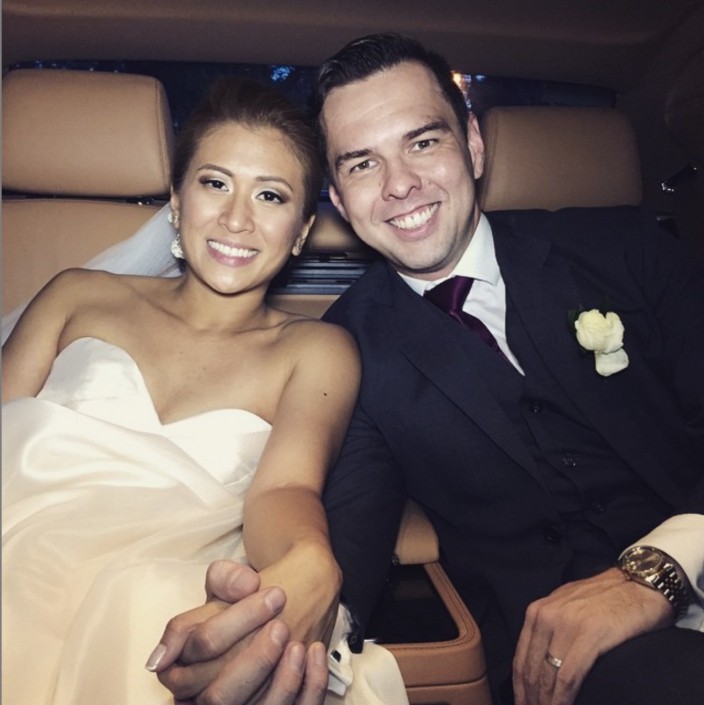 PS. Funniest comment I received while parked and waiting for the bride and groom, someone comes up and asked. "Excuse me, kayo ba yung uber na tinawagan namin?"
PPS. The replay of this episode (worth it just to see their reaction when I 'bumped' the Bentley airs on CNN Philippines, Tuesday (June 23) at 7pm and Sunday at 12 noon.