Last Sunday, I got to live out a childhood fantasy. It's a silly one, but bear with me.
When I was around 8 years old, I got the greatest present of my life. It was the Tamiya Hornet remote control car. It was a cross between a dune buggy and a sprint racer. And it wen't like hell. I would jump it, slide it, flip it, and do massive burn outs. Best part is I always imagined myself inside it and how awesome it would be.
Yup. I loved that thing. I always thought that if freedom had a shape, it would look like my Hornet. It could do anything and go anywhere––dirt, sand, mud, grass, gravel…storm drain. The only difference with the last one was it never came back.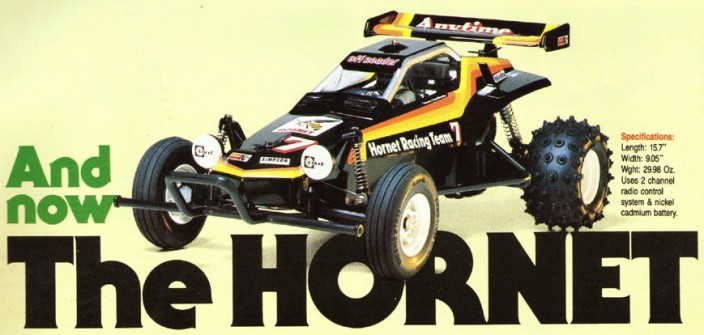 I'll never forget trying to jump in after it. Had I been able to physically fit through the opening, we would have drowned together. So just as well. But it must have taken me 12 years before I saw the blessing in that.
It was the first time I met grief, and he sucker punched me.
A large part of me died that day. But last Sunday, the folks of Access Plus, the official distributors of Polaris recreational vehicles, brought that little boy back to life again with the launch of what has to be one of the coolest toys ever: The Polaris UTV; or in kid language, a life size Tamiya Hornet.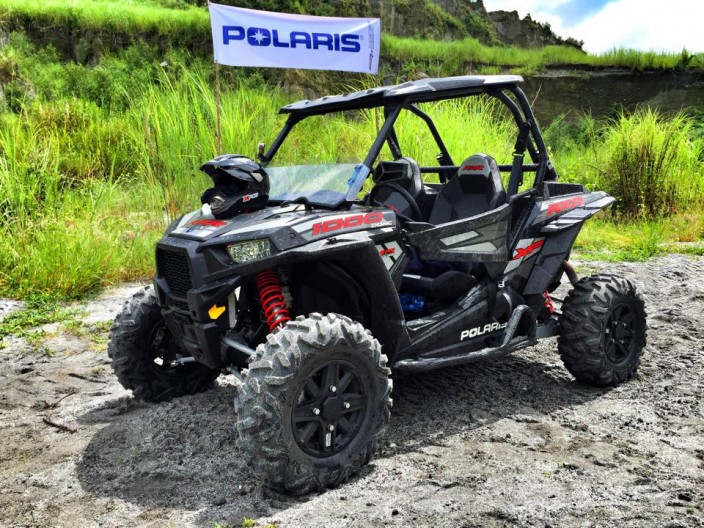 Although the picture pretty much sums it all up, for the sake of hitting a minimum a word count, I'll try and explain the painfully obvious. They bolted a 110hp, 1-liter, four cylinder, fuel injected engine onto a tubular chassis, stuck really fat, grippy tires on it, threw in a steering wheel and two pedals, made room for 2 or 4 seats to sit on, and then left the rest for your instinct take over.
In fact, there are really only two instructions that Toti Alberto, owner of Access Plus, gave me when he tossed me the keys. Point and shoot.
And just to make sure the endorphin levels hit the redline, Access Plus had made arrangements to use the lahar river beds of Porac, Pampanga, which is one of the most beautiful landscapes in the country. Picture a natural off-road race track framed by lush, green hills, natural hot springs, a majestic waterfall, volcanic ash and some of the best off roaders you could ask for on an adventure: other Polaris owners.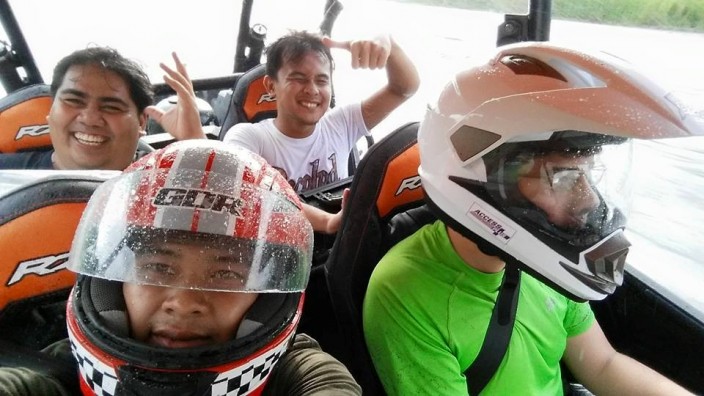 My 16 year old son drives the CNN philippines crew around in the camera car.
There must have been 12 or fifteen Polaris UTVs out at a time and it was a scene straight out of Mad Max. Only this was in full LD, or Life Definition.
It doesn't take long to get the feel of this monster as the extra large, 48MM throttle bodies and long-tip fuel injectors delivers super responsive acceleration from a standstill. Each time you stab the throttle, the whole thing lurches forward like a bear that you just poked with a stick. It's easy to get frightened and lift off, but the key is to keep it planted (especially in two wheel drive mode) and let the rear end squirm around and hunt for traction. Eventually, when it finds grip, you get propelled into this high speed (116kmh) bliss that feels like it's floating over the landscape; it feels like a jetski with massive shock absorbers.
It is actually incredibly surprising just how comfortable it is as those long-travel, industry-exclusive Walker Evans needle shocks soak up even the most punishing ruts. In fact, my first instinct was to slow down when I approached big bumps that were twice, maybe three times the height of a sidewalk, but my co driver would keep yelling (you can't carry on a conversation in the vehicle) smash it! Smash it! Eventually, just like the Hulk, you go looking for things to smash.
There's very little to worry about because the race-inspired 3-link trailing arm rear suspension serves up an astounding 18-inches of rear wheel travel, with another staggering 16-inches of front suspension travel and 13.5-inches of ground clearance, while the true on-demand 4WD system works completely seamlessly. Just flick a switch on the dash to engage or disengage. It is that simple.
I toggled between the two seater and the four seater during our 5 hour drive up to Puning hot springs and other hard-to-pronounce areas. Personally I prefer the four because more can join in the fun, plus the longer wheel base feels a bit more stable. And because it comes with electronic power steering and a CVT, anyone can drive it. Just ask my 11-year old daughter who drove it like she stole it.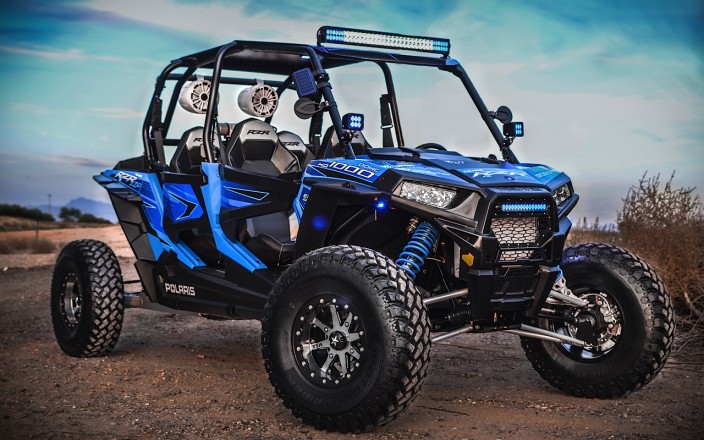 Prices haven't been officially released yet, but expect it to be over a million but under 1.5. Serious money for a toy, I know, but I know people who would spend 3 times more on a watch just to get the time of day. Here you get the time of your life.