I'll admit that when the MMDA announced their no-contact apprehension policy, I took an Alma-Moreno-style approach to it and basically said yes with reservations.
My biggest concern was transparency, as well as how they would plan to achieve this with all the loose ends and weak links––like our postal service and LTO database inaccuracies, just to name a few. I even came up with a video blog to express the fears and concerns of other worried motorists.
Well it turns out someone at MMDA has been listening. Real close, apparently.
At about 9am this morning, the agency announced the launch of the hulikaba website, where motorists can check violations committed on the No Contact Apprehension Policy.  The new initiative, spearheaded by recently appointed chairman, Atty. Emmerson Carlos, is an applaudable bid to promote transparency within the agency, and may I say, I'm not the only one who thinks it's brilliant.
Basically, the MMDA project, dubbed as "Na- Huli Cam Ka Ba?", allows motorists to check whether they have committed a traffic violation via its website, MayHuliBa.com. And not in your typical, boring government way, I may add. In fact, not only is it very non-traditional, some of the replies could have well been crafted by Ramon Bautista, like the "Wala...katulad ng Love life mo" or my personal favourite, "Wala...pero message mo si James Deakin, baka may video siya of you", showing that the MMDA, under its new and dynamic leadership, are not only capable of fighting fire with fire when it comes to discipline, but in true Pinoy fashion, humor with humor.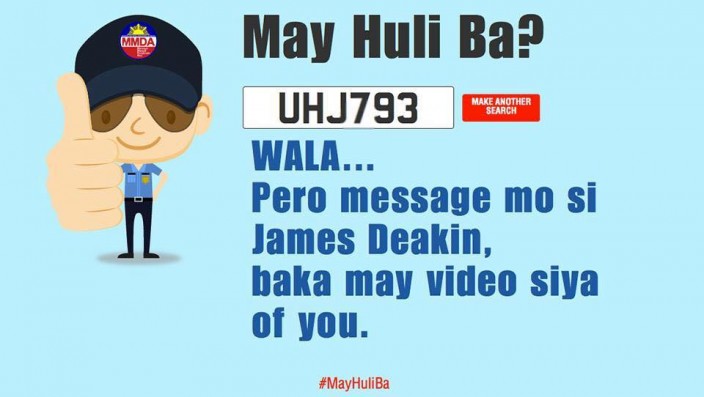 Here's how it works:
Upon typing or encoding the plate numbers on a query box provided at the website, the system will display the number and type of violations, location, and time and date the infraction was committed. The system also informs motorists the status of the notice from the MMDA.
MMDA Chairman Emerson Carlos said the Agency has taken the initiative to develop the system in response to the popular netizens' demand to provide motorists with an easy and efficient way to verify if they have been cited for a traffic infraction under the No Contact Apprehension scheme. Carlos also said the system will facilitate the verification process by motorists on traffic violations and also assuage their fears that they could have been wrongly cited for road infractions.
The No Contact Apprehension Policy was revived during the term of former MMDA Chairman Francis Tolentino to cite over-speeding vehicles along major thoroughfares in the metropolis, especially along Commonwealth Avenue in Quezon City. It has since been refined by the current MMDA chairman when it was re-implemented last April 15, giving motorists a chance to contest the traffic citation seven days upon receipt of a notice from the Agency, but was met with apprehensions of the emotional kind.
Instead of shrugging off the concerns like other government agencies have become accustomed to doing, Chairman Carlos chose to respond to those fears by modernising the No Contact Apprehension Policy, and by doing so, has removed pretty much the last bone of contention, leaving no excuses for drivers to start toeing the line when it comes to following the rules. The program also aims to prevent corruption among traffic enforcers and help ease traffic buildup as physical contact between traffic personnel and erring drivers would be significantly reduced.
So, after years of taking jabs at the MMDA, I will give credit where credit is due. This new initiative is one of the best things to have ever come out of the agency and is a testament to what can be achieved under good leadership. Well done, MMDA. Allow me to be the first to issue you some non contact appreciation. Peace. For now.
You can visit the website here