I don't know if criminal syndicates are treating the honeymoon period between now and June 30 as some kind of a last call for brazen crimes, but this latest scam is nothing short of carnapping, kidnapping and extortion. And I highly, highly encourage you to share this not just until these vermin are behind bars, but for every other wannabe scum to think twice before pulling a stunt like this. And also, so that people may be aware of this modus.
Basically, the MMDA (Highly doubtful, but that is how they introduced themselves) took this lady's keys and drove her car, supposedly to a towing yard that they never got to. This is already highly illegal and is considered carnapping. Next they demanded she get in the car (which she should never have done but did out of fear and because she was rattled) and drove her to an ATM. I'm no lawyer, but this is as close to kidnapping for ransom or illegal detention as I can think of. Then there was the demand for money. That's slam dunk extortion right there.
Whatever the scam, let me assure you that this is NOT MMDA procedure. Whoever these men were (and let's pray that by you sharing this we find them by today) they were not acting in accordance with the MMDA guidelines. If they turn out to be MMDA officers, then they should spend twice as long in jail.
Here's the verbatim account of the victim as posted by her sister Trix Lazera-Clasara, who shared the story on her Facebook account and tagged me to help find justice. It's a little long, but well worth the read.
"This happened to me today, May 23 at around 11am outside Savemore Broadway.
As I was pushing my cart full of groceries out towards the drop off area to wait for my driver, I noticed a bit of a commotion. I heard my phone ring and it was my driver, telling me that our car is being towed, I hear him trying to talk to someone in the background. The guard and a tricycle driver informed me that there is a tow truck in the process of towing vehicles along Broadway Avenue. This was the first time I have ever experienced this and we go to Savemore quite regularly to do groceries and park along the street as other vehicles are also parked there and the guards and parking attendants never told us it was prohibited. There are even times when huge tourist buses park there to unload passengers watching Eat Bulaga.
I look around frantically for our car and I see it moving slowly away from Savemore and into the road, driven by an unknown MMDA towing officer. In my panic, I entrust my grocery cart to the guard at the entrance and run after our car. I reach it at the driver's side, tap on the window and ask the MMDA guy to pull over. I begin to fretfully inform them that I need our vehicle to pick up my daughter from summer class at 12nn and ask where they were taking our car. The MMDA guy in the driver's seat tells me that we have to wait for his "colleague" so I can plead my case with him. When the 2nd MMDA guy approaches me, I start to tear up and cry. He brushes this off and tells me not to lose it and that he is willing to help me. But what happens next just adds to my dread and doubt about the legality of their actions.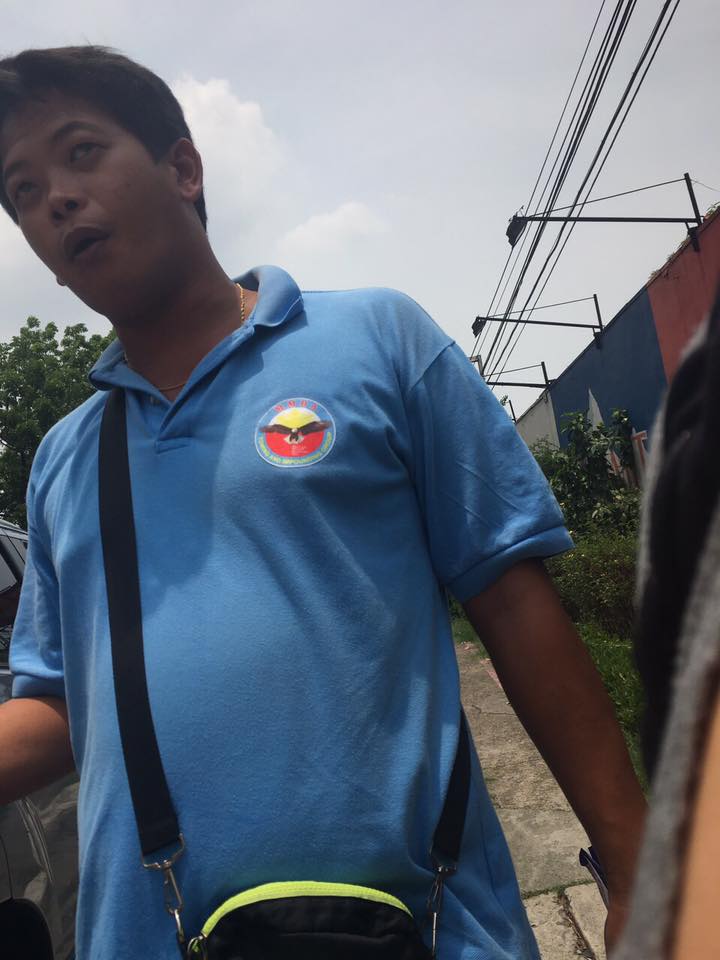 I must be honest, I am not at all familiar with MMDA towing procedure. I do not drive and do not have a license. It did alarm me that they managed to get the keys from my driver and take over our vehicle. They then asked us to get in the car to "talk things over". So MMDA guy 1 was at the wheel, I was at the passenger seat, my driver behind me and MMDA guy 2 was beside him. They then proceed to tell me that this was a serious offense. I ask them how much I need to pay as penalty and they tell me they had to make a phone call to their "boss" and that I can talk to him on the cellphone to explain my case. I call my husband and inform him we just got towed.
At this point, our car was tied to the towing truck with plate number AVA 4494 and we were being driven around in a slow pace towards Ortigas. I was told by MMDA guy 2 that we were going to be impounded at Ultra unless we can come to a settlement. At some point, exasperated, I asked for their names so I can make due note of their strange behavior. They refused to give their names, never presented proper MMDA IDs and just threatened me with immediate impoundment.
When I got handed the cellphone to talk to their "boss", I tried checking the name written on the screen but the screen of the phone was completely black. The person on the other line did not introduce himself either and when I asked him how much the penalty was he just kept saying to me, "Bahala na yung mga nanghuli sayo at nasa kanila na din kung papakawalan ka nila o hindi." So I transferred the phone back to MMDA guy 2 and he proceeded to say things like, "Ah ok, P4K ang charge talaga dun sa ganon? Ah ok ok ok.." And he hung up the phone. He then tells me that the penalty is P4K but, "para makatulong na lang sa kin, magkano sa tingin niyo ang mabibigay ninyo." This confirmed my suspicions that this was an illegal, elaborate and premeditated scam.
I was frantic again because I only had P1K++ cash in my wallet. It was around 11:30 by then and we just turned from Santolan to Ortigas Ave. I pointed to the first ATM I saw which was a Metrobank and asked if I could make a withdrawal. MMDA guy 1 who was driving the car honked loudly to sign the tow truck in front of us to pull over. I hurried to the ATM and called my husband, in tears I related every detail I couldn't say out loud because I was in the car and the 2 men were riding with us. My husband made a call to our lawyer friend and informed him that confiscating our car keys and driving our vehicle was NOT part of MMDA towing protocol and was against the law. My husband then instructed me to gather the groceries out of the car, stay at the side of the road and try to get a taxi home. Fortunately he was in the area and assured me he would be right there to confront the tow people.
I did what was told and informed the MMDA guys that I had to wait for my husband and that if they wanted to tow our car, the driver will accompany them to the impound lot in Ultra they were saying. After around 10 minutes in the middle of Ortigas Ave., in the hot midday sun, my groceries sprawled on the side of the road, my husband arrives. He starts to angrily tell off the MMDA guys stressing that it was against the law to demand our keys and drive our car. MMDA guy 2 was still trying to bargain with my husband saying we can just settle this and that he was only trying to help us. He went back and forth to the tow truck, and his other colleague. When my husband refused to back down and even insisted for them to tow the car so that we might get a legal official MMDA receipt, all their names and the name of their superior, they started to unhook the car from the tow truck.

MMDA guy 2 then ends things by saying, "Di bale na lang, sir, ayan ha di na namin kayo ito-tow." My husband angrily calls after them and insists that we will make sure that they are apprehended and their scam brought to the authorities.
Because we were never given names, we do not know their exact identities. I was able to take photos of them when I was out of my car, in secret. I was not able to take photos of MMDA guy 1 driving our car because I was too afraid what they might do to me if they found out. I did get the plate number of the tow truck - AVA 4494.
This was honestly a very traumatic experience for me and I thank God I got out of it unscathed. All along I was praying to God to avenge me, to save me, to take me out of the situation without giving into their demands. It pained me extremely to be victim to such a scheme, and I fervently hope something can be done about this.
After the incident I did research about MMDA towing procedures and realized the perpetrators did not follow any of them and that the penalty they were asking for was way beyond the amounts listed. Here is the link to that: http://www.autoindustriya.net/MMDA-Res-02-33.pdf
I do pray that by posting this and making it known that more people will be aware of this kind of scam. I fully intend to file a formal complaint through our lawyer friend to the MMDA and show our photos and give a full statement. This experience has left me emotionally and physically drained and deeply saddened. I do hope that justice will be served"