Last May 20, the 2017 FlatOut Race Series (FORS) headed down South at the Batangas Racing Circuit (BRC) for its 3rd round on the calendar. Despite the occasional rain showers, the country's premier grassroots racing series saw a total of 80 drivers compete in its Time Attack and Grid Race events.
Time Attack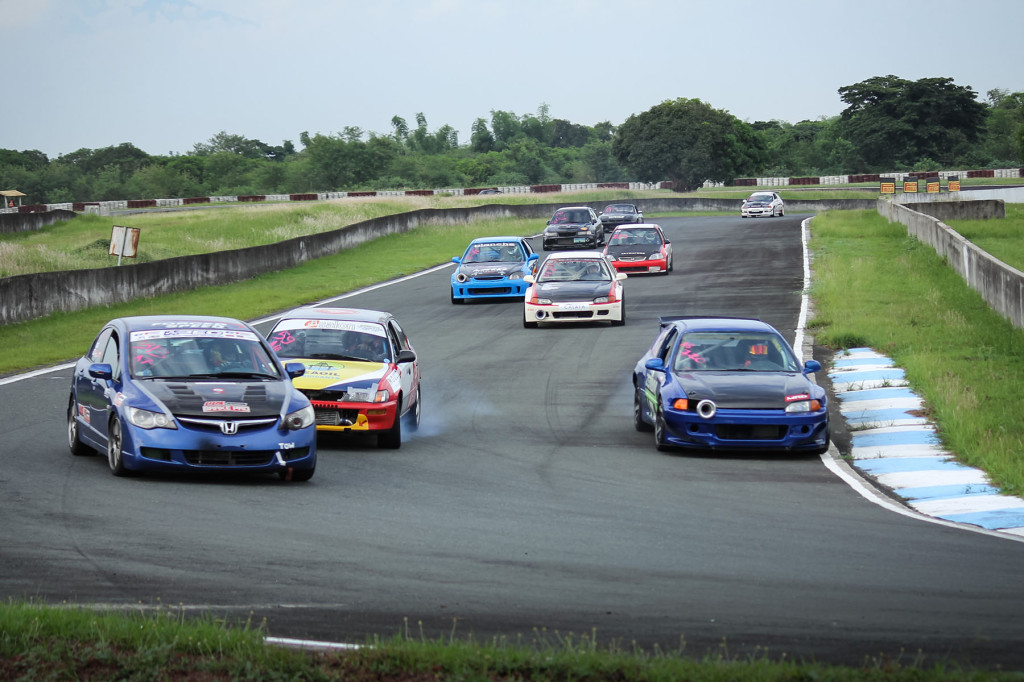 The race weekend started off with the Time Attack Events. Right off the bat, JC Baguisa set the bar high as he registered the fastest lap in Bracket A with his best time of 1:49.792. On his trail in 2nd place was Rafael la O' who clocked in at 1:49.805. Completing the top 3 was Eduardo Suiza with his best lap time of 1:49.821. The Trio would also finish in that order in Bracket R, a special category wherein the fastest cars in Bracket A go up against each other.
Down in Bracket B, Jero Consing took home 1st place with his best lap time of 1:56.006, while Aaron Lao and Zebedee Mendoza came in 2nd and 3rd places, respectively. Bracket C, on the other hand, saw Paul Santos claiming 1st place with his 1:59.517 best lap time. He's followed in 2nd place by newcomer Bubi Camus, while lady driver Kathy Villar settled for 3rd.
In Bracket D, it was a close fight between Andrei Lim, Kikong Dela Rama, and Arbie Jacinto. They would eventually cross the line in that order with just a fraction of a second apart. Meanwhile in Bracket E, all it took was a mere 0.005 of a second to place Mark Bernardo in 1st ahead of Mars Ocampo in what was a very tight battle for the win.
Down in Bracket F, Lars Alonzo, Robert Tan, and Ralph Tan rounded off the podium in 1st, 2nd, and 3rd places, respectively. On the other hand, Bracket G saw Francisco Blanco taking home 1st, followed by Andre Makkina Tan in 2nd, and Greg Suing in 3rd.
Grid Race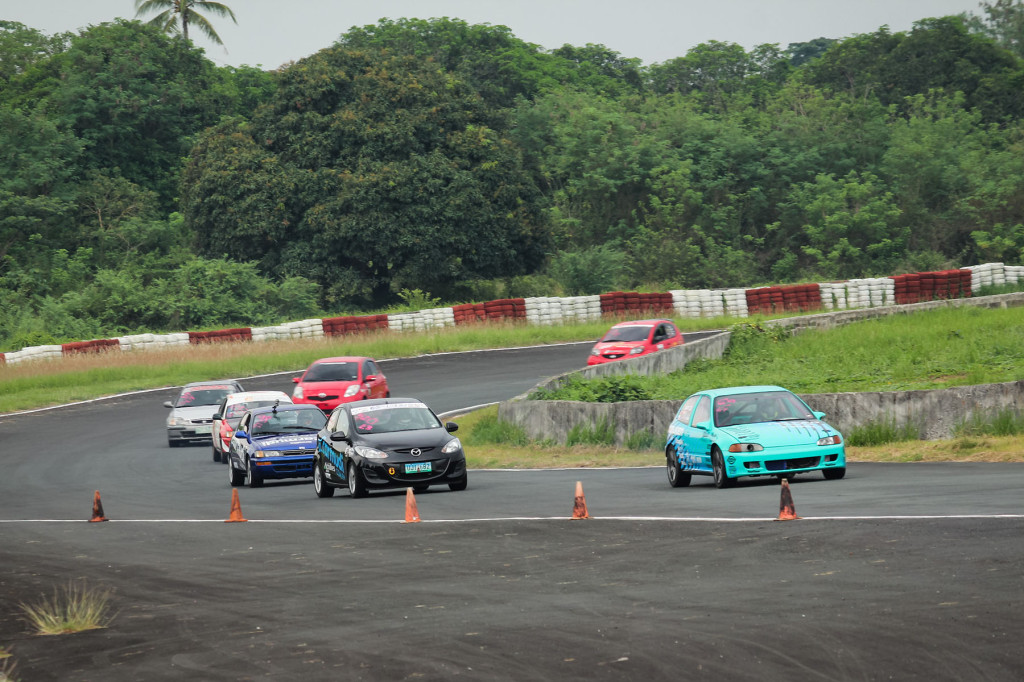 The action continued well into the afternoon with the Grid Race events. In GT Radial Grid A, Dondon Portugal built a commanding lead over his nearest rival JC Baguisa. The former would cross the line 20 seconds ahead of the latter to take 1st place. Coming in 3rd was Rafael la O' onboard a borrowed racecar as his broke down in the morning.
In KYB Grid B, Aaron Lao and Andrew De Asis were locked in a tight standoff from start to finish, even coming into contact with each other at some point. As the dust settled, it was Lao who claimed 1st, followed by De Asis in 2nd and Francis Roger Talan in 3rd. Meanwhile in SmartFuels Grid C, Paul Santos cruised to the line to take 1st place, a full lap ahead of Arbie Jacinto in 2nd.
Things in Recaro Grid D made the crowd go bonkers. Raymond De Pano almost had it all in the bag, displaying a strong show of force in the opening lap. However, his momentum was cut short after he retired on lap 3. This gave Zacharry Mendoza, Mark Edwin Bayan, Jack Saquilayan, Robbie Alvarez, and Andrei Lim the opportunity to duke it out for the win. The said drivers were so into it that they all broke out of the bracket and were penalized. As a result, the race ended with Paolo Santos, Mark Bernardo, and Ronn Catindig taking 1st, 2nd, and 3rd places, respectively.
In Works Bell Grid E, Pathrick Bautista finished the race in 1st place ahead of Ralph Tan in 2nd. Lars Alonzo would eventually take 3rd place.
Come June 3, the 2017 FORS will be staging its 4th round, still at the BRC. The following day, the inaugural GT Radial x 4 Oras Ng Pilipinas endurance race will be held.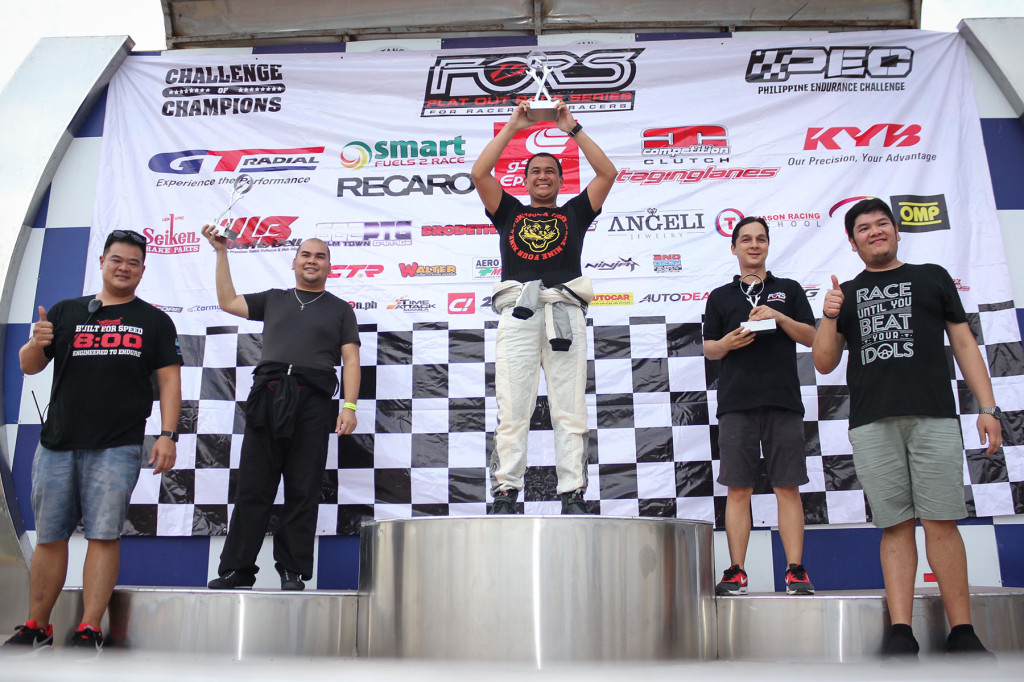 The 2017 Flat Out Race Series (FORS) is sponsored by GT Radial – Philippines, KYB, EPPCO, RECARO, Staging Lanes, Competition Clutch, SmartFuels, Seiken Brake Parts, Works Bell, 602PTG, Brodeth Motorsports, Tuason Racing School, OMP, and Angeli Jewelry. It's supported by Walter Lights and Sounds, Aeromed, Ninja Performance, Totem Bikes, CTR, and 2ndGen Insurance. Media partners include 2NER Magazine, AutoCar Philippines, AutoDeal.com.ph, AutoIndustriya.com, C! Magazine, CarGuide.Ph, Carmudi.Ph, Ignition.PH, JamesDeakin.Ph, JDM Underground, Manila Bulletin Drive, Pit Talk Asia, and Time Attack Manila.