This year's FlatOut Race Series (FORS) saw its 7th round unfold last September 9, 2017 at the Batangas Racing Circuit (BRC) in Rosario, Batangas. The country's premier grassroots racing series attracted 82 challengers with only one mission at the time; to dominate in its Time Attack and Grid Race events.
New for this round is the addition of the double points rule. Simply put; the amount of points earned by the winning drivers will be multiplied by 2, thus increasing the chances of nailing those coveted championship titles. As always, the 2017 FORS runs under the watchful eyes of the Automobile Association of the Philippines (AAP), a local motor sports governing body which ensures the fairness of everything on and off the track.
Time Attack
The racing weekend started off with the time attack runs. Eduardo Suiza became the star of the moment as his best lap time of 1:42.650 earned him 2 achievements; the new fastest lap record set at BRC and an instant 1st place win in Bracket R. Still in the said bracket, Lance Binamira came in 2nd with his 1:46.046 run. Rafael la O', meanwhile, placed 3rd.
la O' also landed 1st in Bracket A, followed by Suiza in 2nd and Kikong Dela Rama in 3rd. On the other hand, Bracket B saw Jero Consing, Andrew de Asis, and James Paul Santiago stopping the clock in that order.
Down in Bracket C, Jack Saquilayan's 1:59.111 run earned him 1st, followed by Paul Santos who got 2nd and Kathy Villar who ended up claiming 3rd. In Bracket D, Ralph Tan, Raymond De Pano, and Bernard Michael Santos placed 1st, 2nd, and 3rd, respectively. Meanwhile, Ronn Catindig was the fastest in Bracket E with Dan Errol Panganiban trailing in 2nd and Alvin Villaseñor in 3rd.
In Bracket F, the top 3 winners were Andre Tan, Arbie Jacinto, and Noel Delos Reyes, while Jerome Hilado, Kody Ng, and Felix Chua stood atop the Bracket G podium in that order.
Grid Race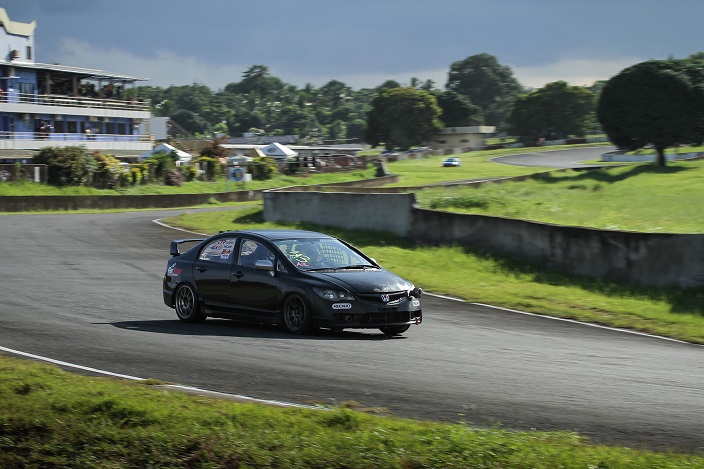 The day's activities soon moved on to the grid races. In GT Radial Grid A, the crowd went bonkers as Eduardo Suiza and Rafael la O' found themselves lock in a tight battle in almost every lap. However, the 2 came into contact during the closing stages. Eggy Ong capitalized on that incident to win the race, followed by Suiza in 2nd and la O' in 3rd.
Down in KYB Grid B, Aaron Lao came out on top after a grueling battle for the lead vs. Andrew de Asis. De Asis would cross the line in 2nd, while Jonmark Ong rounded off the podium in 3rd. in SmartFuels Grid C, Zacharry Mendoza didn't let his spin out stop him from landing in 1st place. He was joined on the podium by Paul Santos in 2nd and Polo Bautista in 3rd.
To up the action, AAP combined Recaro Grid D and Works Bell Grid E to form a huge 19-car starting grid. Bracket E winner Ronn Catindig claimed another victory, this time in Recaro Grid D. He was followed by Julian Diego and Bernard Michael Santos who landed in 2nd and 3rd places, respectively.
Meanwhile, Andre Makkina Tan conquered Works Bell Grid E with Robert Tan claiming 2nd. Steve Travers would cross the line in 3rd.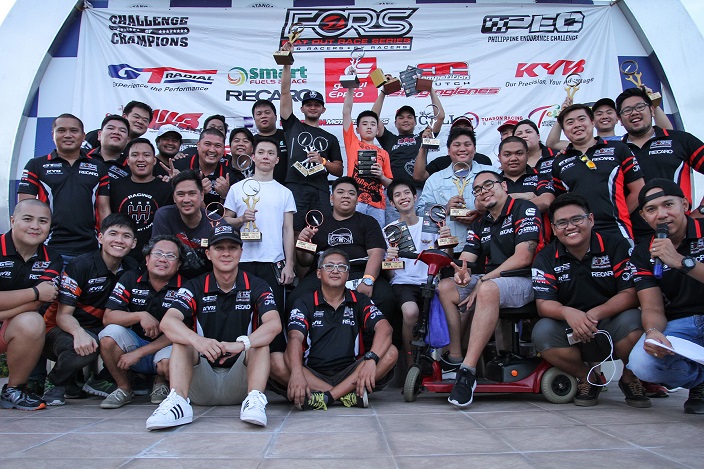 On October 14, the FlatOut Race Series will end its 2017 season calendar in style at the 4.2 km Clark International Speedway in Pampanga. Stay tuned for the grand finale of the biggest motorsports event this year.
The 2017 FlatOut Race Series (FORS) is made possible by the following sponsors and media partners: