Coming from over a month of hiatus after its thrilling 5th round up north, the 2017 FlatOut Race Series (FORS) headed down south at the Batangas Racing Circuit for its 6th round in the season calendar.
Overseen by the Automobile Association of the Philippines (AAP), the racing weekend was attended to by a total of 84 drivers who vied for championship points on its Time Attack and Grid Race events. Amazingly, Rafael la O' and his #1 Auto Magic Honda Civic EK made all things even hotter with a dominating performance.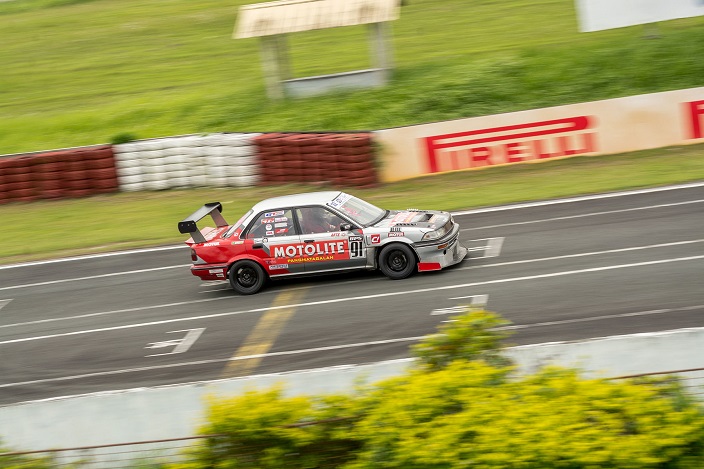 Time Attack
As with the previous rounds, the morning was kicked off with the Time Attack runs. Due to la O's hard-charging feat, he landed 1st in Bracket R with a blistering time of 1:45.739. Coming in 2nd was Lance Binamira who clocked in at 1:45.828. Then there's Eduardo Suiza who took 3rd witha best time of 1:47.454.
Because of their Bracket R best times, both la O and Suiza also clinched 1st and 2nd places, respectively in Bracket A. Joining them on the podium in 3rd was Dondon Portugal with his 1:50.535 best lap time. In Bracket B, Andrew de Asis took 1st place, followed by his teammate Aaron Lao in 2nd. Zeb Mendoza came in 3rd.
Onboard the BRE x Carmudi Mazda MX-5 NA machine, Bubi Camus became the fastest driver in the 10-car Bracket C line up with his best time of 1:59.212. In 2nd was Sydney Sarmiento, while Iris Nelson Balbin claimed 3rd. Down in Bracket D, Ralph Tan was the quickest, followed by  AAP Motorsport Development Program (MSDP) finalist Bernard Michael Santos in 2nd. Greg Suing, on the other hand, posted the 3rd fastest time.
Dan Errol Panganiban, Carlos Marzo, and Armand Marcaida were the ones to round off the Bracket E podium in that order. Meanwhile, Victoriano Edillon led the time sheets in Bracket F, followed by Robert Tan in 2nd and Noel Delos Reyes in 3rd. Finally, the top 3 fastest drivers in Bracket G were lady driver and MSDP finalist Chenee Jimenez (1st), Melvin Cervantes (2nd), and Mark Pascual (3rd).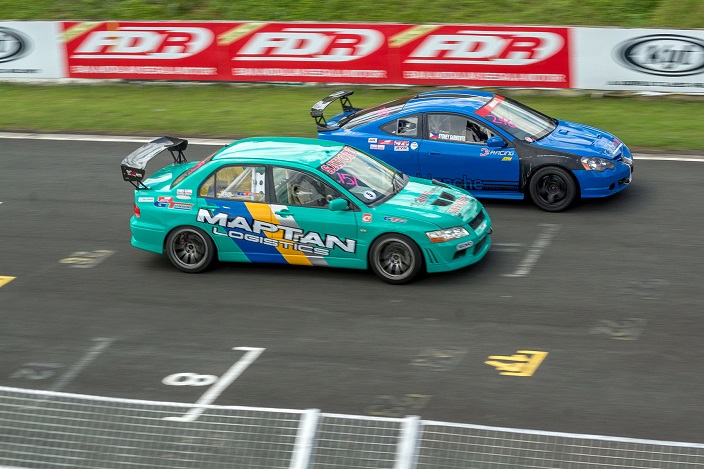 Grid Race
By mid-day, the drivers saw the lights turn green for the grid races. It was a GT Radial Grid A 3-way battle between la O', Suiza, and Portugal. They kept the pressure up high against each other, but as the dust settled, it was la O' who emerged victorious. Portugal came so close to snatching the lead, crossing the line in 2nd, just 3.735 seconds behind la O'. Suiza maintained his fighting spirit 'til the checkered flag, thus earning him a 3rd place finish.
Teammates Andrew de Asis and Aaron Lao were locked on a tight battle for the win in KYB Grid B. However, Lao encountered a technical problem which prematurely ended his race. This gave de Asis the top honor.
Jonmark Ong, on his maiden race at FORS, showed a promising performance by clinching 1st place in SmartFuels Grid C. As it turned out, he crossed the line a whole lap ahead of Paul Santos in 2nd and Jack Saquilayan in 3rd.
In Recaro Grid D, Ralph Tan scored another 1st place victory as a result of his valiant effort to keep Greg Suing at bay in 2nd. Ronn Cantindig came in 3rd.
Lastly in Works Bell Grid E, race fans roared as Victoriano Edillon and Andre Makkina Tan put up a good show. In the end,the former prevailed and crossed the line in 1st, just 0.082 seconds ahead of the latter in 2nd. Robert Tan capped off the weekend in 3rd.
With Round 6 in the bag, the 2017 FORS will be back on September 9 at the Batangas Racing Circuit for an exciting Round 7, the penultimate round on the calendar.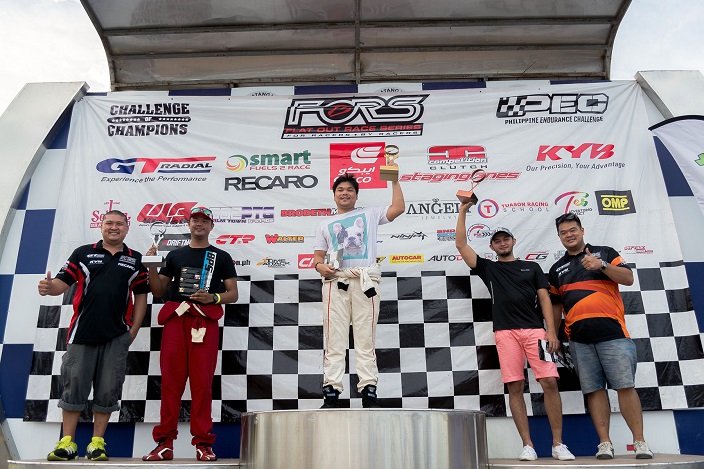 The 2017 FlatOut Race Series is made possible by the following sponsors and media partners: