So I've come full circle. Both figuratively, and literally.
Ten years ago, when I was just starting out as a motoring scribe, a group of performance and classic car enthusiasts (who happened to also be starting out) thought it would be a good idea to take their vintage, collectible, and historical cars around the country in a landmark nautical run that would set the tone of their club's membership ideals.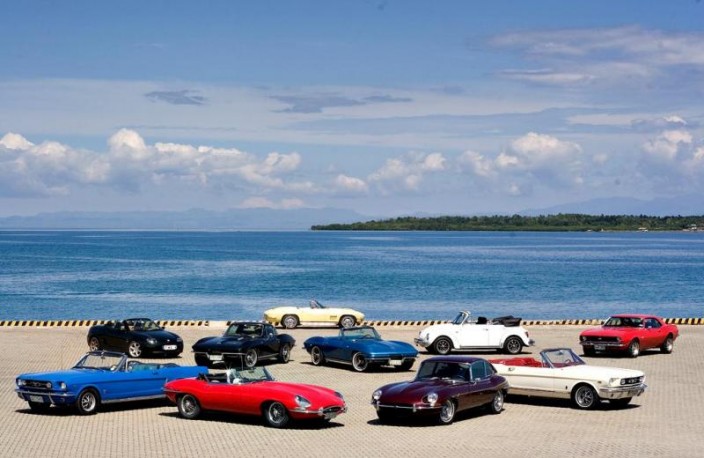 The original gathering of PACE in the first nautical run
They asked me to tag along. Being a newbie back then, I jumped in heel and toe first, dragged my then 6 year old son along with me, and enjoyed one of the best father/son bonding activities ever. Rough and ready as it all was, it remains one of the highlights of my motoring career.
Over the years though, responsibilities increased, time decreased, and as much as I wanted to join the annual runs, the easiest way to keep up with the convoy was on Facebook. But this being their 10th year, the Performance and Classic Car Enthusiasts (PACE) of Cebu were organising their biggest tour yet, with at least 25 pre-1972 vintage or collectible cars doing a 1,000km loop through Western Visayas––and they were not going to allow me to tag along digitally. So despite everything––not owning a vintage car being a particularly restricting one––I pulled out my proverbial Nike card, and just did it.
"We'll lend you a car, don't worry" They said, exchanging knowing glances at each other.
And not just any car, but a 1963 Kougar, which loosely translated is a 3.4 liter, four on the floor, straight six, Jaguar E-Type with a stunningly retro (for that time) body kit and some go fast goodies.  It all seemed to good to be true. But you know what they say about that, right?
I first laid eyes on her barely an hour before I lined her up on the ceremonial flag off––and it didn't take long to understand why they had been so economical with information. Gorgeous as she was, I knew she was going to be a handful; from the exposed exhaust that sat alongside the driver, to the oversized, thin wood steering wheel that looked more at home on a sailboat, to a seating position so crooked that only a politician would fit comfortably, the Kougar's cabin seemed as welcoming as Christian Grey's special room, without the promise of a happy ending.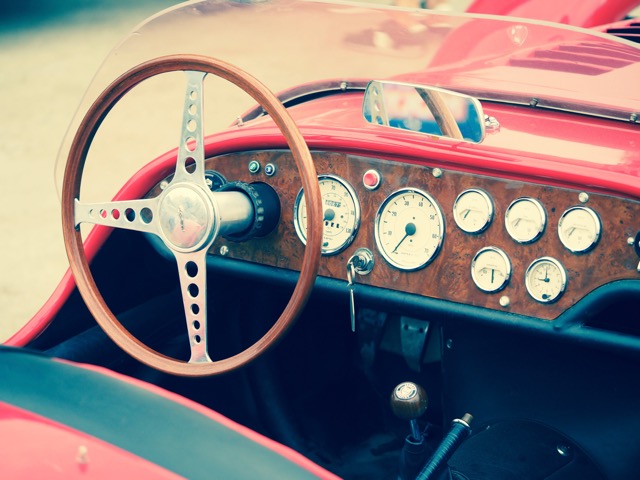 Barely 10 kilometres into it, I started rehearsing excuses in my head. The brakes have gone. The throttle is sticky. The people of Amnesty International have been alerted. By the time I got to the first official time check, I had more excuses than the current administration and I was ready to lay it on thick to the 3 who organisers who invited me. But as fate would have it, all three had retired––two from losing their brakes and one from a sticky throttle. Some called it irony, I called it karma.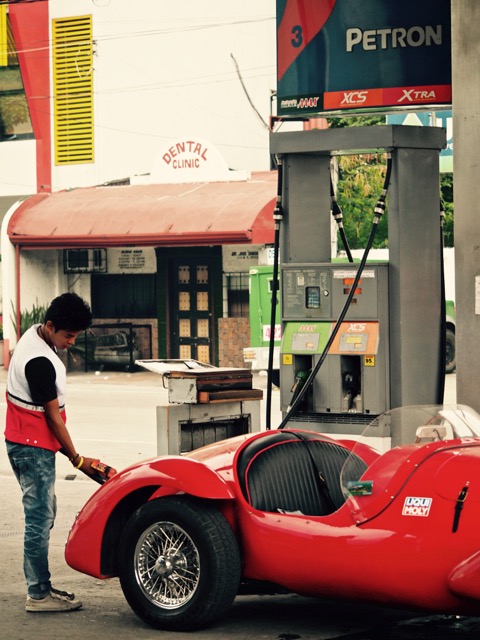 From Moalboal, it was another couple of hours drive to the port of Santander, which is the jump off point to Dumaguette. From this point, without anybody around to hear my screams, I had little option but to engage her in dialogue. Slowly, as much as I was used to telling her what I wanted to do, I started to listen instead. Then react. Listen. React. And slowly, she would show her appreciation by obliging. It turns out, she actually had no issues with tight corners and sweeping curves; she just preferred to be courted into them. Same went for the brakes, clutch and transmission.
And so the dance began––gentle on the turn in, load up the tires slowly, wait for her to absorb the load with the suspension, then power out and transfer that load gradually to the rear where all the grip was. It was simple, elegant, yet somehow still completely involving, requiring your full attention to keep it feeling and looking effortless. If that makes any sense at all.
We danced for two days straight, only taking a break for meals and sleep. By the end, as I crossed the finish line in San Carlos city, Bacolod, one of the organisers (Two of them had gotten back on the road either by fixing the problem or sending a replacement car) came up to me and said, "We never thought you'd make it this far. In fact, the car has only been driven 10km in the 9 years that it has been with its current owner. How was it? Or more importantly, now that you have spent a thousand kms together, what would you improve in the car to make it better?"
I flashed back to my first stop in Moalboal and how I had a mental list of complaints longer than the road we had just travelled, but after the last 800 kms or so. I said. "The only thing that needs improvement is the driver. That is the only nut that needs to be adjusted."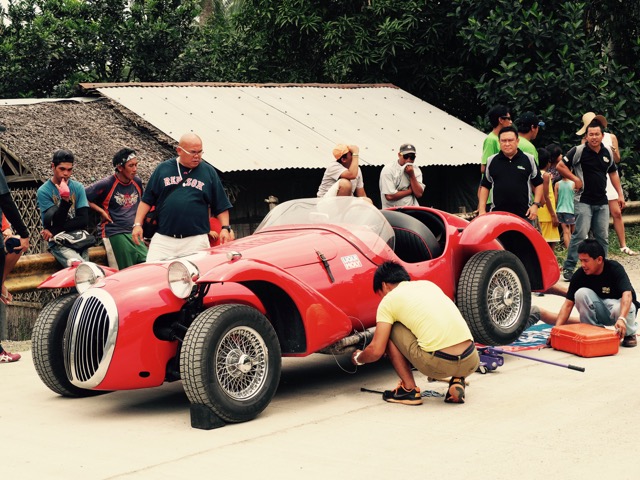 The Tour de Cebu always set out to be more than a race. It's a culture. It exists solely to celebrate the primal bond between man and machine that technology has tried to put asunder. Not that I'm against technology or the modernisation of cars, but it means little without perspective.
No matter what you do, it is important to go back to your roots. In my case it's cars, and the love of driving. And this tour was a touchstone; a reminder of why I fell in love to begin with.
Over the years, my ride as a motoring scribe has been incredible. A fairy tale, actually. But with every launch of a new vehicle, manufacturers have slowly engineered the drivers out of the car, which is why it is important to not forget to also tune them up every 10 years or 100,000 kms.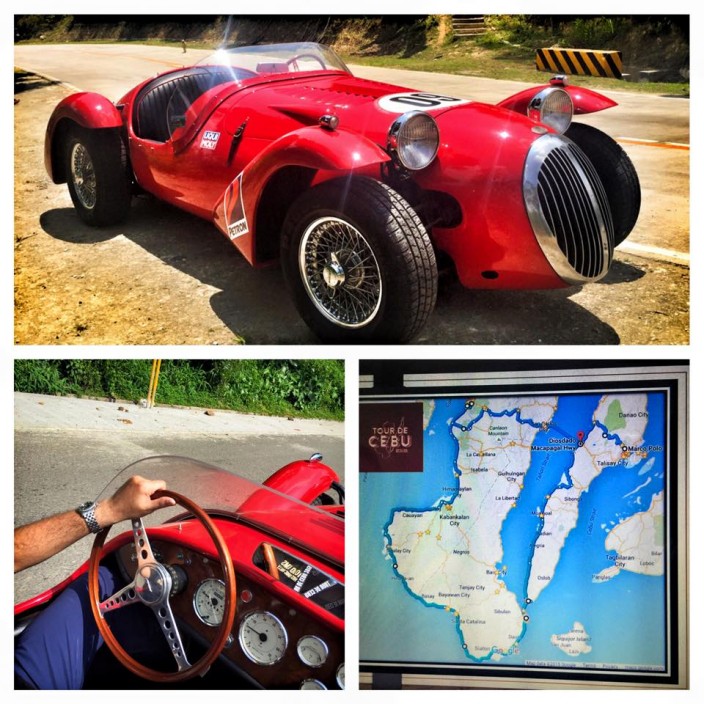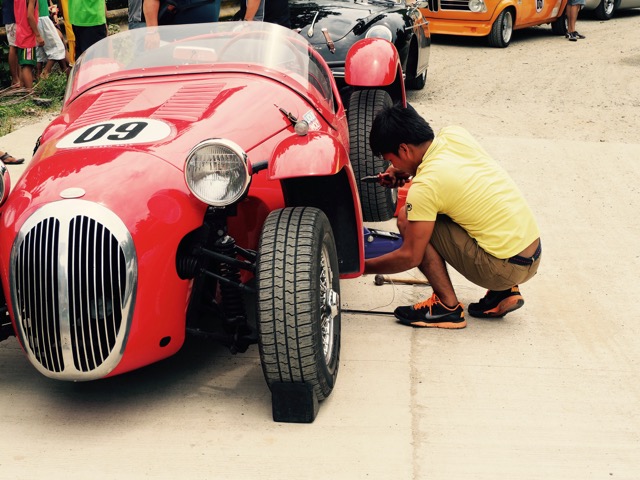 Just one lose muffler over the entire 1,000 km loop. Otherwise she purred like a cat the entire way