Last Saturday, March 20, Toyota Motors Philippines kicked off season 2 of the biggest FIA sanctioned motor sport event in Philippine history. A total of 40 drivers lined up at the Clark International Speedway to compete for over 300,000 pesos worth of cash prizes in the 2015 Vios Cup.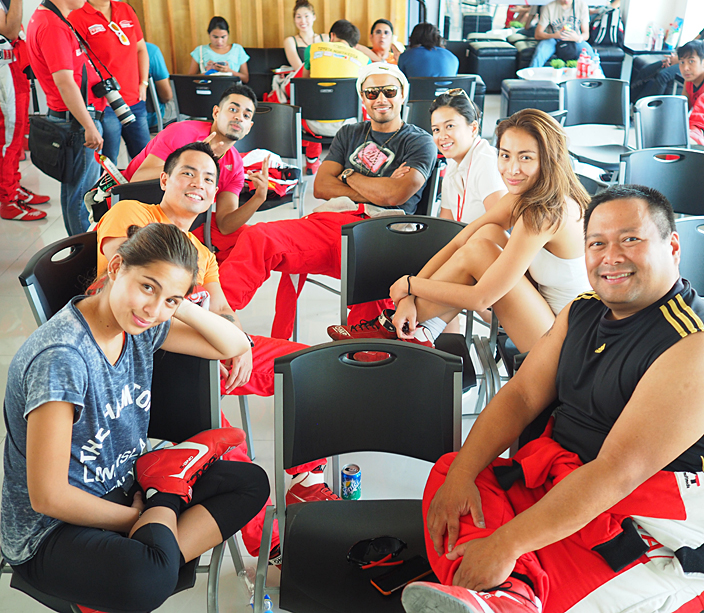 In fact, the grid was so big that it had to be divided into two in order to comply with international safety regulations.
16-year old Luis Gono entered the weekend as the favourite, but only managed to qualify 2nd on the grid, losing out to last year's rising star and Toyota San Fernando's golden son, Pauland Dumlao, who surprised everyone by fighting for the championship up until the very last race.
Gono lined up alongside Dumlao, with veteran driver and championship contender last year, Alan Uy in third.
Reigning celebrity champion, Sam YG, continued his streak by qualifying pole in the promotional class, with Phoemela Barranda reluctantly settling for 2nd, Jinno Rufino lining up in 3rd, and a much-improved Rhian Ramos in her highest ever starting position of 4th.
But the celebrations ended abruptly in turn one of race one as a first corner incident with Jinno Rufino forced the Boy's Night Out host, as well as Rhian Ramos and Rufino out of the race, giving the former celebrity champion, Phoemela Barranda, an unchallenged drive all the way to the checkered flag and handing her the first win of 2015
Miguel Diaz followed the celebrity model home in second place, while a stunning drive from JV Ejercito, who ironically is also the author of the speed limiter bill, saw the well-liked Senator finish in third.
Biggest news of the weekend, however, was newcomer Daniel Miranda who qualified second fastest overall, only to be demoted to the back of the grid due to a technical infringement. He was forced to start the race in 20th place, but fought his way to 4th, only to be handed another penalty that relegated him to 7th. Yet as heartbreaking as it was, everyone in the paddock agreed that a new star was born in Clarkfield, Pampanga.
Miranda showed maturity and skill throughout the 12 lap race, which was eventually won by another new-comer and late-entrant, Estefano Rivera, who also showed tremendous skill and incredible sportsman-like driving in an epic battle between himself and Dumlao, that (even with one penalty handed out) served as a text book example of how hard racing is always best when done clean. The pair were trailed by another up and coming star, Andres Calma, who drove a strong race to finish in third.
Dumlao may have had to settle for second but stamped his authority all over the 4.2 kilometre track in race 2 with a champion's drive to the flag. But it wasn't completely uncontested as the new rules which forced him to carry an extra 20kg of ballast due to his 2nd place finish started to take its toll on the dying laps.
Rising star Daniel Miranda capitalised on this and chipped away at the gap, catching Dumlao in the end. But despite his best attempts, including a small love tap that forced Dumlao into a half spin, was unable to convert it into a victory, and instead, was handed a penalty that demoted him to third, with Alan Uy inheriting his 2nd position.
Yet despite the penalty, the stewards praised Miranda and Dumlao for their driving.
Eager to build on her momentum, perhaps too eager, Phoemela Barranda literally jumped the gun with a false start that added 15 seconds on to her time. But this gave Sam YG the perfect chance to fight back, which he did, claiming his maiden victory even after a self induced spin on turn one.
Miguel Diaz and Ton Ton Ramos finished the race first and second, but as no points are awarded in the promotional class, it was Sam YG taking the win for the celebrities.
The Brembo best driver of the day went to Pauland Dumlao who scored the most points and now leads the championship, while the slingshot award (given to the one with the most gains in position) was rightfully handed to Daniel Miranda
The Vios Cup heads over to a yet-to-be announced street race outside of Luzon next May, where 1.5 points will be awarded. Add this to the fact that all the podium winners will be given a weight penalty, and we have all the ingredients of another blockbuster.