Ferrari, an Italian supercar maker, held Round 4 of its Challenge one-make racing series at the Fuji Speedway in Japan last July 6 to 9, 2017. A total of 35 drivers from 13 countries vied for valuable championship points, and 1 of them is Angie King, a proud Filipino racer and renowned car customization expert.
`, it was King's first time to compete in such a challenging race under the Trofeo Pirelli AM category. Best part is that her maiden race yielded an astounding 2nd place victory.
As regard, her win also rekindled fond memories of an awesome season in 2015 when Vincent Floirendo, another Pinoy racer, clinched multiple podium finishes, thus proving that the Philippines can produce world class racing drivers.
Despite losing control and spinning during the course of the race, King registered a best time of 32'05.417 in Race 1, securing her 2nd position with just over 11 seconds behind 1st placer Tiger Wu from Taiwan. Chinese racer Yanbin Xing came close in 3rd.
"During the actual race, I had a great start and I managed to push up halfway through, but above the 12 laps I spun out on the chicane. I lost my position and got confused on where I stood amongst my competitors," said King. "But that didn't stop me from trying to catch up. I ended up with second place in my division."
In celebration of this achievement, Mr. Wellington Soong, Chairman and President of Autostrada Motore, the official distributor of Ferrari vehicles in the Philippines, had this to say, "Angie King is well known for her passion for cars and racing. Having her represent the country this year in one of the most competitive non-professional series in the world is an honor, and her podium finish just solidifies the talent of Filipinos in the world of racing, powered by one of the world's strongest car brands."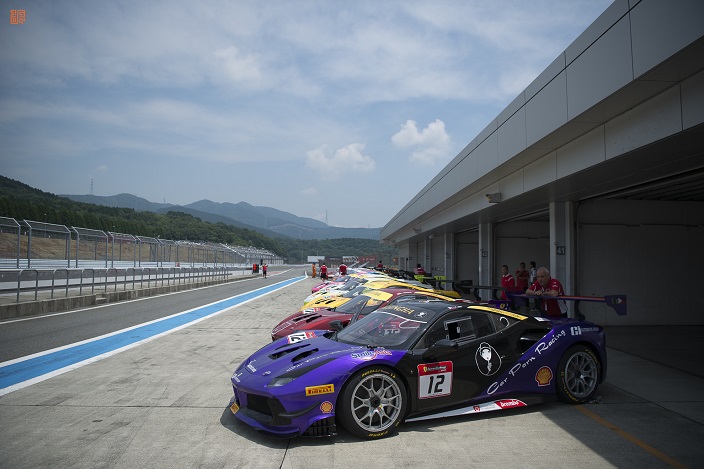 King's Ferrari 488 Challenge is among the 23 machines of its kind to participate in this year's Challenge one-make race. It holds the record as the first ever Ferrari to compete in the said racing series using a turbocharged 9.0L V8 engine. In detail, the engine has a total of 670 hp on tap, and is hailed as the most powerful mill this season.
Catch more of Angie King's racing journey as she battles her way to victory in Round 5 of the 2017 Ferrari Challenge one-make race. It will take place in Sepang, Malaysia this August 24 to 27. She will again race on the series' 7th round on October 27 to 29 in Mugello, Italy.