What do you think would happen if a video surfaced on social media of two guys being cheered on as they fired their guns indiscriminately in the air in a public place with thousands of innocent people around? How about a hidden camera capturing a barista deliberately placing a dead rat into a beverage at an upmarket coffee shop?
It would probably break the Internet.
Yet post a video of two guys filming their own illegal street race on a public road in Tanay, and not only does it not draw any outrage, the two are hailed as heroes by thousands of fans––despite the fact that road accidents claimed more than 10,000 lives in the Philippines last year vs 2 for stray bullets and none from Starbucks.
In the video, which was taken on January 22, motorcycle racers Mickey Mazo and Romer Corbe take to the streets of Tanay Rizal to settle a feud. Before the flag off, they both posted pictures of 50,000 pesos cash being placed down for the winner and bragged about another one million peso purse being bet by their fans. They even had posters made.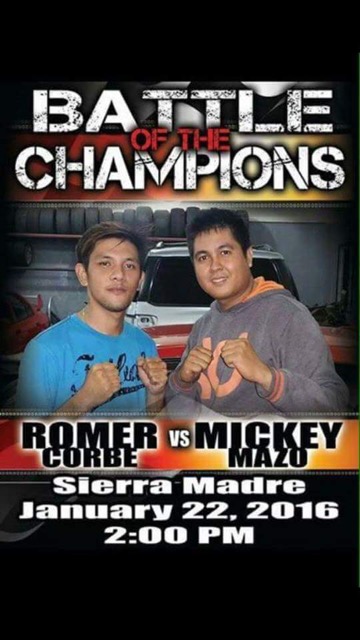 The video is taken from a side helmet camera of one of the riders that shows the two dicing it out for around 6 minutes down a busy mountain road lined with screaming fans, narrowly missing moving cars in both directions––including a police car that was traveling the other way.
As of this writing, the video has been viewed almost one million times and attracted thousands of comments from rabid fans that not only defend and praise the riders, but with some even going as far as threatening anyone that says otherwise. Even more disturbing is that, despite the overwhelming video evidence provided by the offenders themselves, there's been absolutely no word from our authorities regarding charges or penalties.
I'm not sure what more one needs to do to get charged now. Maybe they need to take out an ad? Or maybe the cops are waiting for the organisers and perpetrators to file a case against themselves? Because it seems that not even verified video evidence posted by the offenders themselves is enough these days.
Seriously. Are we all part of some Orwellian nightmare where the citizenry has become so desensitised and our authorities have quite simply given up as a result? It certainly feels like it. What is next? Riding in tandem shooting selfies? Wake up, people. This may not seem like a big deal to some people because nobody got hurt (this time) but this is what anarchy looks like in 1080p. Allow it to pass and let's see you try and get justice for yourself or a loved one after one of you become a victim of this douchebaggery.
If our authorities continue to play dumb here, then I encourage the racing community to step in. How can you allow this? I've heard you all complain about racing not getting enough support, let's see how much support you'll get when an innocent person is killed by this recklessness. Take a stand now. Before it's too late. I'd also like to see the sponsors of these racers and teams take a stand. How can you allow your name to be associated with this?
Yamaha Philippines issued a statement last Friday saying that they are not affiliated with either rider and do not condone street racing, but said nothing in the way of pulling their sponsorship from Spec V racing team. What about the other sponsors? Where are they?
If you're wondering why I don't stop banging on this drum it is simply because road safety is everyone's concern. Public roads are the great equaliser. From the richest person in the country to the poorest, we all have to share the same stretch at some point. Yes some are more vulnerable than others, but nobody is immune.
Our roads are deadly enough as it is. That is why we have racetracks. And the most disappointing part about all of this is that both riders and the organisers already compete there. So it begs the question: why do you need to take it on public roads? Why?
This is not just an illegal street race; this is an act of defiance. A game of Russian roulette that most of us had no idea we were playing. And it needs to stop. Because one day, like me, you may have to stand speechless in front of a grieving mom or wife that stares at you through eyes that have almost been swollen shut from crying asking you why. Why my baby? What did he ever do? He was just driving home from work. And you will wonder what you can say to comfort her.
Let me tell you from experience that it is not what you say that will comfort that person, but when you say it. That's why I'm saying it now. Before someone gets killed.
Now it is your turn. Let's make every voice count. Don't be a hero the day after we needed you.