So I get this message from Autostrada, the exclusive distributors of Ferrari, Maserati, Land Rover, Jaguar and Aston Martin, that simply says: "Are you available to test drive one of our cars this weekend?"
Now, these are the kind of questions I set up an auto-reply for, but 'Duh' seemed a little impolite, so I just swiped a big fat YES in all caps on my keyboard and fired back. Or should I say, back fired.
Turns out, it is a Maserati Ghibli. In––you guessed it––blue. MMDA Blue to be precise. Not necessarily in shade, but in tone. And here's a Mestizo-looking guy turning bright red as he approaches it.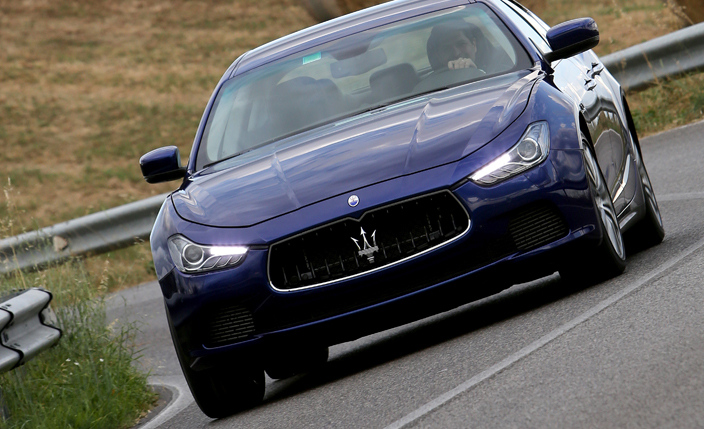 Now you need to have been hiding under a rock the size of Korina Sanchez's on-air faux pas to not know the story behind the blue Maserati driver that assaulted the MMDA officer and fled, but as a journalist, I always believe that there are 3 sides to every story. We've heard the MMDA officer's, we've heard the driver's, now it's time to tell the car's.
So, filthy looks from enforcers aside, what's it like driving the hottest car in the country right now? Well, if I had to sum it up in a sentence, I'd say it really packs a punch.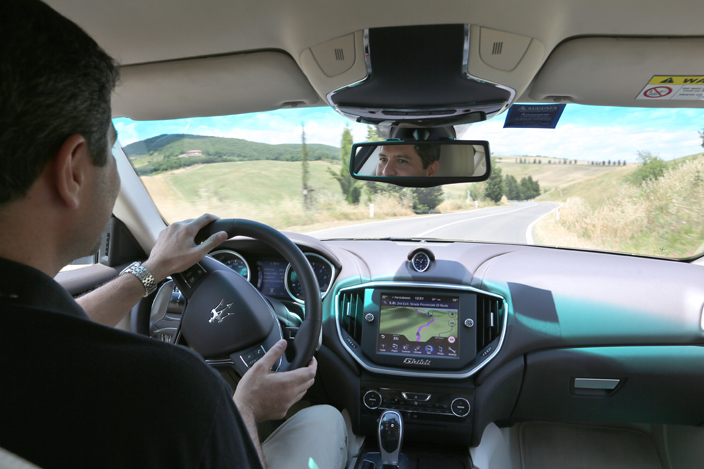 More than just a car, the Ghibli is all part of Maserati's survival plan. It is the catalyst to go from 6,200 cars a year to 50,000 cars by 2015. It is a goal so bold that the company has so far invested 1.5 billion euros, which includes development of their very first diesel engine as well as a new plant in Grugliasco, which was formerly the Bertone plant, that is capable of punching out 135 cars a day.
The idea is to create an economy of scale that brings the Ghibli into a price range that is only a modest premium over a comparable Mercedes Benz CLS, BMW Six Series Gran Coupe or Audi A7, which in theory is as simple as making a single malt whiskey affordable enough to mix with coke. And at 6.9 million pesos for the 330hp V6, it has done exactly that.
Now it will always be painful when a brand as exclusive as Maserati goes mainstream. The mere thought seems as absurd as Rolex offering digital watches. But the sobering truth is that the brand's survival, just like Porsche, Jaguar and even Aston Martin, depends entirely on their need to finance their exclusive products for the minority by flirting with the majority. And while there will never be an easy way to franchise your soul to subsidize your heart, honestly, I think the Ghibli is as good as it gets for a first try.
Compared to the Quattroporte, it is a different expression of the same approach–although at just under 5 meters long––as compared to the 5.26 meter long Quattroporte––it has a completely different personality that opens itself up to a much broader palette.
I was given the direct injection V6 that arrives with a beautifully-tuned exhaust note that never got the memo that it was a turbo. Much less a twin. All 330hp is fed through a super slick 8-speed ZF box that allows the Ghibli to cut and slice its way through corners with the grace of cars with half its doors. It doesn't feel as serious as a 5 series, but it seems to give itself more room to be itself with double wishbones up front, 5 links in the rear, and a perfect 50/50 weight distribution with two-stage dampers that perform far better than skyhook.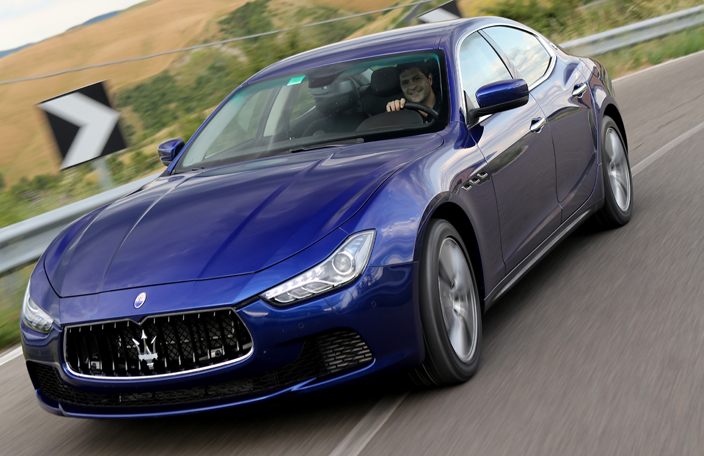 Steering is sharp, alive, talkative and communicates well with the chassis. In the Q4 (AWD) version that I drove during the launch last July, steering feel is taxed to pay for the extra grip, but feels like a fair trade. Throw it into a corner, power out, and the Ghibli feeds the power democratically to all four wheels and adjusts the allocation every 150 miliseconds, giving you just enough to get you out of trouble while still giving that rear wheel bias that is an inherent trait of every proper sports car––even though the purists will still appreciate the honesty of an exclusive rear wheel drive.
The interior can still proudly wear an embossed trident on it's hide, but some may still look and yearn for that opulence that we normally associate with Maserati. Still, it is right up there with anything BMW, Mercedes and Audi can throw at it. Every detail follows a flow, from the design of the analog clock to the brushed aluminium key that carries the theme from the steering wheel. There's a split cockpit design with a very functional 8.5-inch touch screen, a 1280 watt, 15-speaker Bowers and Wilkins premium sound system and a 60/40 split fold seat that keeps things very sensible.
And unlike the Audi A7, Mercedes CLS and Porsche Panamera, the Ghibli offers a standard fifth seat. And while BMW's 6 Series Gran Coupe is also a five-seater, the Ghibli offers a lot more headroom and an above average trunk space for its class, making it as practical as it is emotional. And therein lies the rub
The Ghibli is a very sensible car. In fact, it makes more sense than any Maserati before it. But the argument is that we have enough sensible cars. We need more drama. Which is exactly what the Ghibli delivered in bucket loads last week. Just ask the MMDA.