Team Volvo Polestar Cyan Racing has dominated the opening round of the 2017 Swedish GT premier last May 4 to 6 at Ring Knutstorp, Sweden. Piloting a Volvo S60 Polestar racecar, drivers Prince Carl Philip and Thed Björk displayed a commendable performance in the said endurance series.
Race 1
Björk took first dibs as he started out on pole in Race 1. He then went on to establish a wide gap ahead of other competitors from such teams as Audi, Ferrari, McLaren, and Porsche. The lead and the deployment of the safety car provided enough window for Björk to head down into the pits and hand over the car to Phillip.
As he exited the pit area, Phillip found himself ahead of the field just in time for the resumption of the race. He would eventually cross the line in 1st place, ahead of team McLaren's Erik Behrens and Daniel Roos in 2nd, and team Audi's Jan Brunstedt in 3rd.
Race 2
It was a solo mission for Phillip in Race 2 with Björk serving as his advisor from the pit. Qualifying in 2nd place, Phillip never lost sight of his goal to take the lead. However, the pressure proved to be a bit too much for him as he struggled hard in an effort to come out on top. He would eventually finish the race still in 2nd place behind team Ferrari's Fredrik Larsson in 1st. Team Audi's Jan Brunstedt settled for 3rd once more.
The Race 1 victory and Race 2 2nd place finish brought team Volvo Polestar Cyan Racing atop the 2017 Swedish GT leaderboard with 5 points coming into Round 2 on July 8 to 9 at Falkenberg, Sweden.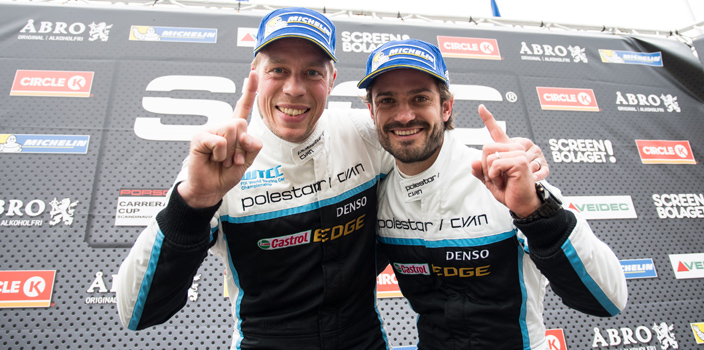 Volvo Philippines shares this strong show of motorsports feat with its customers by offering Polestar optimization to some of its models. To know more about Volvo Philippines, visit the official website.