So Uber and Grab have both been legitimised. And as one of the noisier advocates of ride sharing, I'm told by not only the government but some of my colleagues that I can finally shut up now and stop screaming conspiracy. We got what we wanted, I'm told. But did we?
I won't get into that at the moment as I believe in honeymoon periods when working with new regulations or technologies, but this announcement to forbid TNCs from picking up passengers at the airport not only justifies a fight on the wedding night, but should even be grounds for annulment.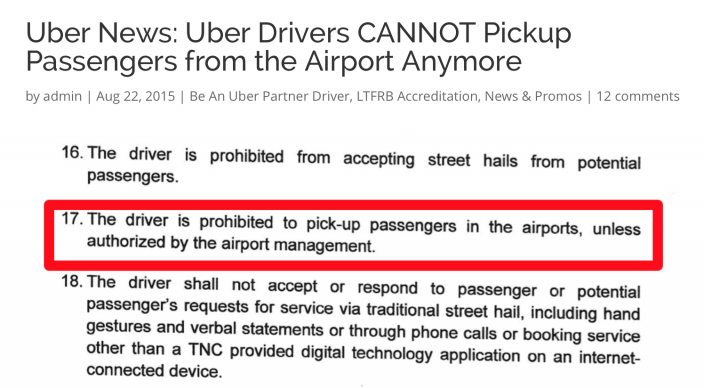 The entire existence of TNCs is to break the cartel. That is its sole purpose. Had we enjoyed a safe, reliable and efficient service previously, Uber and GrabCar wouldn't have a business model. Come to think of it, neither would private security firms, private schools, private hospitals, private ambulance services and privately owned and operated toll roads. But I digress.

So to wake up to the news that "Ok, TNCs are allowed to operate, but are forbidden from picking up passengers from the airport." is as ridiculous as granting a license to operate a hotel that can only service locals. No tourists allowed. Seriously.
I'll bite my tongue for now and pray that it ends up like the Balikbayan box customs scandal that was eventually overturned by the president when they realised the implications, and just leave you with this snap shot of a frequent traveller on his experience with NAIA taxis.
"Hi James, if you're ever in need of a story, you may consider the experience I have every 2 weeks when I fly to NAIA and try to get a taxi (especially T2). 9 times out of 10, it is impossible to get a yellow metered taxi. So you are left with the White coupon taxis which are twice the price . But supply is so low, and usually the estimated wait time given by the counter is 3 hours. As soon as they say this, you get the "private car" scalpers, who offer rates that are 3 times higher than the White coupon taxi (ie 6 times higher than the metered taxis). Given the massive line and the very slow trickle of the yellow taxis, and the complete non supply of White coupon taxis, you end up paying p3000 to take a private car to greenbelt. But then, each and every time, the private car turns out to be a registered White coupon taxi, not an actual private car.
I confronted one of the agents on this once saying I know it's all a scam and she apologised and admitted so. She says it is a syndicate where the guards at the gate control supply for a 10% cut, the driver gets 10%, the scalper agent gets 10%, the original coupon fare goes to the transport operator, and the airport authority (I take it a political appointee) gets the residual. This has happened to me so many times that I either counter bribe the private car scalpers, or go to arrivals to get a taxi drop off. The guards try to stop you taking 'unauthorised' taxis fro arrivals, but p100 bribe shuts them up.
It's terrible that this is the first impression tourists have of the Philippines. Corruption just to get a taxi into town. The other day when I decided to wait in the 3 hour white coupon taxi line, a man in front of me had a heart attack. Amazing how when an emergency happens, the controller can automatically get supply of a vehicle. But otherwise, they make you sweat until you give in to using a "private car".
If you're tired of this type of service, then speak up and let your voices be heard by popping a comment in the box below.